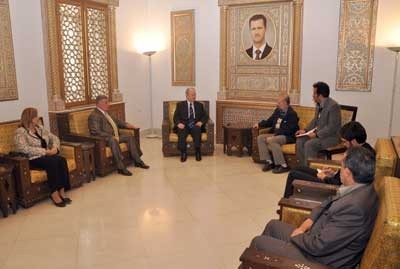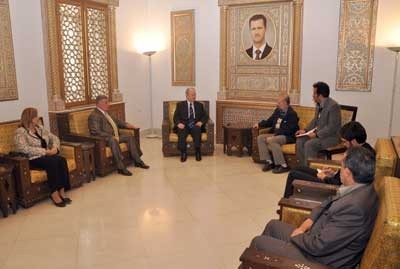 Speaker of the People's Assembly, Mahmoud al-Abrash, reviewed the reality of conspiracy against Syria which aims at deviating it from its pan-Arab and national stances in support of the Arab rights and the Resistance.
Meeting the Iranian Worker's House delegation on Wednesday, al-Abrash stressed that Syria is moving forward in the comprehensive reform program led by President Bashar al-Assad and national dialogue, indicating to the huge media campaign and the economic pressures that Syria faces, in addition to the Syrian people's role in confronting schemes aimed at undermining their unity.
Al-Abrash briefed the delegation on the killing and sabotage acts committed by the armed terrorist groups, lauding the Iranian people's standing by Syria and their support to its just issues and its right to restore the occupied Syrian Golan.
For his part, Secretary General of Worker's House, Alireza Mahjoub, expressed the Iranian people's support to Syria in the face of all challenges, underlining Syria's resistant role in support of people's just issues and in the face of international imperialist powers.
Mahjoub indicated to the deep Syrian-Iranian relations, stressing the need for further boosting them, stressing that Syrian people' awareness and the leadership's wisdom will help overcome the crisis more stronger.