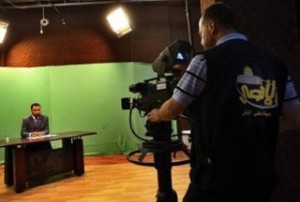 Al-Aqsa TV condemns France's decision to ban the channel's transmissions, saying it is an illegal move which aims at satisfying "Israeli and US desires."
Muhammad Abu Thuraya, the deputy director of al-Aqsa TV, said that his channel will "mobilize rights activist in the world" against the decision.
Abu Thuraya also said that the authorities of Eutelsat, the satellite that aired al-Aqsa, have accused the TV channel of "inciting hatred", without giving any further explanation, adding that the ban was actually due to the TV's role in "exposing the Zionists crimes" in the Palestinian territories, especially during the Gaza war last year.
Al-Aqsa's transmissions were banned after the French Higher Broadcasting Council (CSA) ordered Eutelsat to stop providing services to the channel.
A statement issued by al-Aqsa said that the channel will call on international media, rights institutions, and journalists' blocs to take a decisive stance against Western intervention in Arab media.
The statement held the French government responsible for the decision and urged it to reverse its decision.
Palestine's al-Aqsa TV has offices in Palestine, Egypt, Jordan, Lebanon, Syria, Yemen, and Turkey.
The CSA ban provoked a protest in Syria, where dozens of people gathered in front of the French Embassy in Damascus to protest against the decision.