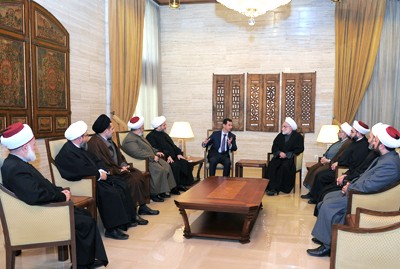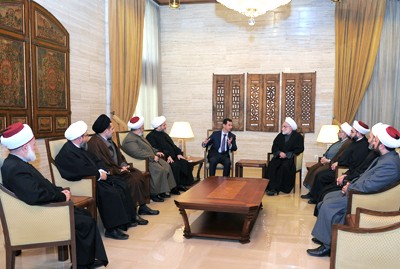 Syrian President Bashar Al-Assad met with a delegation from the "Muslim Scholars' Assembly in Lebanon" headed by Sheikh Ahmad Al-Zein, and assured to them that the "Islamists" are divided as they don't have the same priorities and goals, indicating that he prefers to use the term "Muslims" rather than "Islamists".
He emphasized that Syria's stance from the Muslim brotherhood in Syria differs from its stance from Hamas Movement, and assured that the resistance movement has the government's complete support and is not related to the internal crisis taking place in Syria.
"Hamas has a major role in the Palestinian cause, and Syria is dealing with it on that basis," Al-Assad added.
The Syrian president said that "a sectarian crisis was never present in Syria, and the authority has dealt strictly with any movement that tried to stir up such tensions… today this atmosphere is present but is restricted in Homos only."
Regarding Russia's stance on Syria, Al-Assad pointed out that "Russia's stance is a strategic one," and while many wager that it will alter its support, he said that "what Russia presented was strategic, it will not back on its stance and today, it stands with us in our battle."
On the other hand, Al-Assad assured that Syria is not against the Arabs, and is not interested in the steps that the Arabs are taking now.
"Some Arab countries are not convinced with the stance that the Arab League took against Syria, and we have received various phone calls from Arab states who assured to us that the bilateral relations between their governments and Syria will not change after the LA sanctions and that eventually, the Arab leaders will visit Damascus and apologize over their actions," he added.
In parallel, the Syrian president found strange Sudan's stance against Syria, explaining that his country has always been supportive to Sudan during the tough periods and when sanctions were being imposed on it.
On the economic sanctions, Al-Assad considered that these will affect Syria, but their effect will not be disastrous, as various measures will be taken to confront them.
He continued saying that the people who are demonstrating might not all be completely supportive to the regime, but they are provoked from the Arab's and the Arab League's stance on their country.
"My battle is not with the Arabs, that is why we are not interested in the steps they take. Our battle is with those who are controlling the Arab states today," Al-Assad specified.
He further explained that "the American plan was to fragmentize Iraq, but after they found that this step is impossible with the presence of its neighbor Syria, they estimated that if Syria was fragmentized than Iraq will be too… today, the American foreign policies are in their weakest phase, all they wanted was to create an instable situation in Syria in order to cover their withdrawal from Iraq. They also want to change the regime in Syria, but they will not be able to do so."
Moreover, Al-Assad stressed that he did not back up on the reforms he announced he will go through with, and said "they are progressing, but the West does not ask Syria for reforms, it is ready to disregard all the reforms if Syria said it would commit to former US Defense Minister Colin Powell's demands."