Middle East
Syria
Al-Halqi: Syrian Army Will Complete Mission of Eliminating Armed Terrorist Groups Soon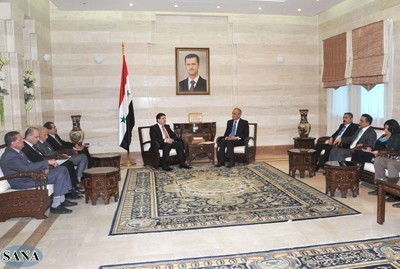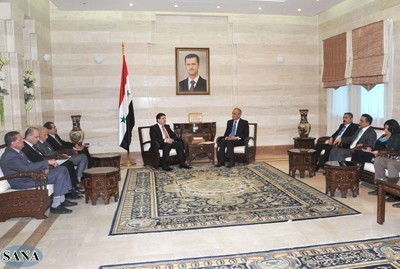 Prime Minister Dr. Wael al-Halqi lauded the role of Syrian media in confronting the conspiracy against Syria and exposing its dimension and goals, underlining the Syrian media's success in relaying the truth to the world's public opinion regarding the terrorism and universal war targeting Syria and in uncovering the misdirection campaigns waged by sedition channels and mercenary media.
During a meeting on Monday with head of the executive office of the Journalists Union Elias Murad and members of the office, al-Halqi said that the Syrian Arab Army is waging the battle against terrorism valiantly, and managed to inflict heavy losses on terrorist groups and restore security to cleared areas, all thanks to the Syrian people's unity.
The Prime Minister affirmed that the Syrian Arab Army will complete his mission of eliminating armed terrorist groups soon.
He also affirmed the government's commitment to providing citizens' needs of food, medicine and petroleum products and ensuring the availability of goods in local markets, noting that there are stockpiles that are sufficient for local needs despite the embargo and the sanctions against Syria.
The meeting also tackled a number of professional and vocational issues related to journalism and means to improve media performance, in addition to providing the Union's needs and overcoming difficulties hindering its projects.
Premier al-Halqi affirmed that the demands and issues of the Union's executive office will be given proper attention and that its investment projects will be supported, calling for boosting communication between media and the executive and administrative authorities in order to improve work mechanism, relay the needs of citizens, uncover corruption, and achieve public interests.
In turn, Murad and the office members lauded the government's efforts in support of national media and its work to ensure the availability of goods and stability of the Syrian Pound exchange rate and providing services.