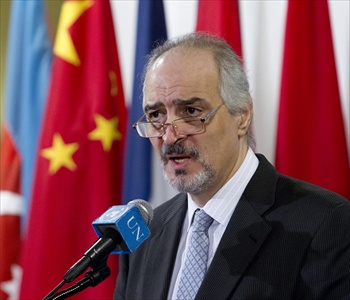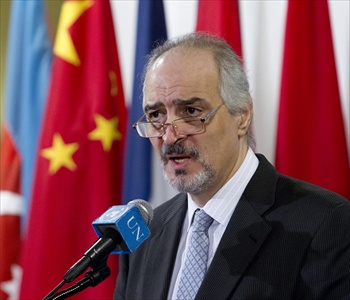 Syria's Permanent Representative to the UN, Bashar al-Jaafari, called upon the Arab League (AL) to respect its charter and return to reason and the international law, SANA news agency reported.
Speaking during a UN Security Council session held Tuesday to discuss the issue of cooperation between the UN and regional and other organizations in preserving international peace and security.
Jaafari hailed the pivotal role Syria played as a genuine founding member of the AL in the joint Arab action, in addition to its commitment to defending the Arab nation causes and adherence to the joint defense cooperation treaty.
He stressed that the higher pan-Arab interest has been the basis of the Syrian foreign policy, noting that this has exposed Syria to a lot of pressures and aggressions that have badly affected the Syrian people's livelihood.
Jaafari noted that the Syrian government's welcome of cooperation with the AL and its observer mission was out of Syria's belief in its Arab depth and hope that the AL would play a positive role in revealing the real dimensions of the situation in it and supporting national dialogue and halting violence.
Yet, the Syrian Ambassador stressed, some Arab countries like Qatar and Saudi Arabia has taken advantage of the restless conditions facing some of the region's countries to hijack the mechanisms of the Arab decision making at the Arab League.
The Syrian official lashed out at Qatar and Saudi Arabia for having exploited the AL institutions to serve hostile foreign agendas that are not in the interest of the Arab countries and their peoples, thus falling under the hegemony of the petrodollar.
He also highlighted the fact when Qatar and Saudi Arabia exerted pressure, despite the opposition of other Arab states, to pass a draft resolution that permitted the willing Arab countries to provide weapons to the Syrian opposition and the terrorist groups that are sponsored by the Turkish government.
The Syrian diplomat stressed that the AL's move came in violation of the Security Council resolutions no. 2042 and 2043 that stipulate for the necessity to reach a solution through a Syrian-led political process, adding that this has contributed to undermining the mission of the UN Envoy Lakhdar Brahimi as well as the efforts seeking to convene an international conference on Syria.
He reiterated that these measures taken by the AL constituted a transgression against the Security Council's role in preserving international peace and security based on article 24 of its charter and a violation of its exclusive authority to allow regional organizations to take any repressive measures in accordance with article 53.
The Syrian Representative called upon the Arab League to be part of the peaceful political solution to the crisis in Syria and not part of the region's problems and stoking them in service of foreign agendas that harm the Arab peoples' interests.