Syria
Al-Jaafari: Regional,Western support to terrorists flagrant violation of international law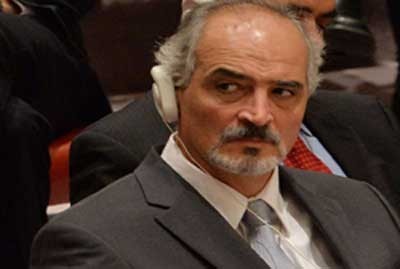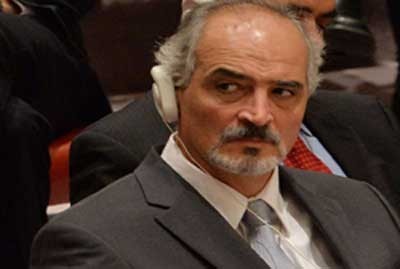 Syria's permanent envoy to the UN Bashar al-Jaafari affirmed that "Syria didn't touch till now anything which shows the UN's seriousness or efficiency in guaranteeing the superiority of the international law and putting an end to the illegitimate acts and terrorism, though Syria has sent hundreds of official letters to the UN bodies' concerned which clarify the suffering of the Syrian people from the aggressions and violations of terrorists.
"The crisis in Syria represents a clear evidence on the flagrant interfering polices in the domestic affairs of the states which pose a threat to Syria stability and its territorial integrity through the support and the financing of governments of Arab, regional and western states to foreign terrorist, extremist members and sending them to Syria to ruin and destroy the country," al-Jaafari said in a statement at the meeting of the 6th committee commissioned with the legal affairs at the UN General Assembly to discuss the item titled 'Sovereignty of law on the national and international levels."
He wondered if that behavior stems from the allegations of those countries that they adhere to the sovereignty of law, asking " will the unilateral procedures imposed by some states on Syria, which negatively impact the livelihood of the Syrians and prevent them from receiving basic needs of food and medicine, be considered as an implementation of the sovereignty of law… is the continued Israeli occupation of the Syrian Golan and the state terrorism practiced by Israel an applying of the law sovereignty."
Al-Jaafari said that those acts are flagrant violation of the simplest principles of the international law and the UN charter as well as principles of the friendly relations among the states, including the UN Security Council resolution 1267 for the year 1999, resolution No. 1373 for 2001, resolution No. 1540 for 2004, resolution No. 1624 for 2005 and resolution No. 1989 for 2011 in addition to the resolutions of the General Assembly and the contents of the comprehensive strategy for combating terrorism.
"The Syrian government has always affirmed that the national comprehensive dialogue, led by Syria, is the only way to overcome the crisis and proved through its cooperation with all peaceful initiative its seriousness and credibility to find a peaceful, political solution to the crisis… Syria, as well, has repeatedly called on the states which support the terrorist groups to stop this support immediately," the Syrian envoy said.
He added that Syria expressed its commitment to cooperate with the UN Envoy Lakhdar Brahimi and announced its readiness to take part in Geneva 2 conference without preconditions.
Al-Jaafari renewed Syria's assertion on the importance for all states to adhere to the rules of international law and the UN purposes, and its support to boost the law on the national and international levels.