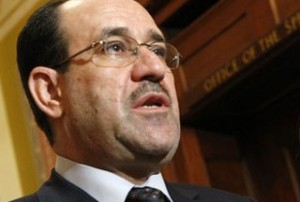 Prime Minister Nouri Al-Maliki has urged the people of Iraq and its politicians to refuse the return of dictatorship through elections.
In an exclusive interview with Iraq's Alsumaria TV channel, al-Maliki stressed that Iraq will enhance "Iraqi intelligence" after establishing security in its provinces.
The national elections are scheduled for March after repeated delays in passing election laws in the parliament.
In November, after weeks of political stalemate, Iraq approved the law to hold the critical national election, a step that will allow the rapid withdrawal of American combat forces early next year.
The Iraqi prime minister on Saturday told Egypt's Al-Ahram that the US would withdraw its troops from Iraq in 2011 as agreed.
Al-Maliki stated that the recent series of attacks, including car bombs that killed over 130 people in Baghdad, were being executed by people who oppose the country's fledgling political process.