Syria
Al-Moallem discusses with Brahimi procedural arrangements to launch dialogue with "opposition"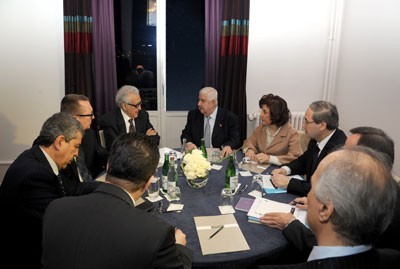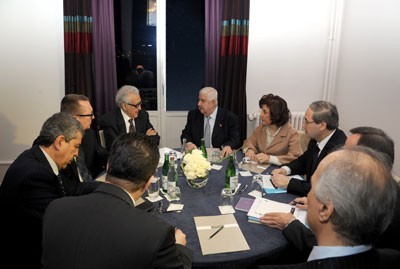 Deputy Prime Minister, Foreign and Expatriates Minister, Head of the Syrian official delegation to Geneva 2 conference met on Thursday the UN envoy to Syria Lakhdar Brahimi.
Talks during the meeting, which was held at al-Moallem's residence in Geneva, dealt with the procedural arrangements to launch dialogue with the coalition delegation called "opposition "at the UN headquarters in Geneva at 11 a.m on Friday.
Presidential Political and Media advisor Buthaina Shaaban, Deputy Foreign and Expatriates Minister Fayssal Mikdad, Assistant Foreign and Expatriates Minister Hussam al-Din Ala and Syrian's permanent envoy to the UN Bashar al-Jafari attended the meeting.
The international conference on Syria, Geneva2, kicked off on Wednesday with the participation of Syria's official delegation, headed by al-Moallem.