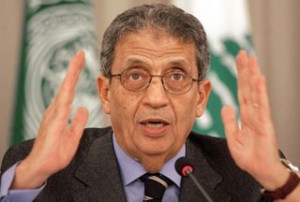 The Arab League secretary general says the stalled peace talks between Israel and the Palestinians would resume only after a freeze on the expansion of Israeli settlements.
Amr Moussa, who was speaking in a press conference in Morocco on Sunday, was referring to remarks made by US Secretary of State Hillary Clinton, who had asserted that a freeze was not a precondition for the resumption of the peace talks, Ynet news reported.
Clinton's remarks at a joint news conference with Israeli Prime Minister Benjamin Netanyahu are generally considered as a U-turn in US policies after Washington's apparent diplomatic efforts failed to push Tel Aviv to stop its illegal settlement activities in the Palestinian lands.
During the Saturday news conference in Jerusalem Al-Quds, Netanyahu insisted that he will not accept any preconditions made by the Palestinians to resume the talks.
"The Palestinian demand of preconditions is a change in policy never seen in 16 years," Netanyahu said.
This is while, acting Palestinian Authority Chief Mahmoud Abbas in a meeting with Clinton in Abu Dhabi on Saturday had stressed that the renewal of the peace process would not be possible without a complete freeze on Israeli settlement construction in the Occupied Lands.