Syria
'Al-Nusra Front chief killed in Syria'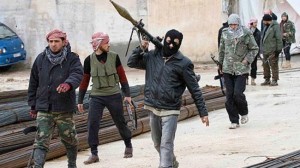 The chief of Syria's Takfiri group Jabhat al-Nusra (al-Nusra Front) has reportedly been killed, Syrian media outlets say.
According to reports on Friday, al-Qaeda-linked Nusra leader Mohammad al-Joulani was killed in Latakia province in the west of the country.
There were no more details regarding the incident.
In May, Joulani was wounded along with some other members of the terrorist group in the governorate of Damascus, the so-called Syrian Observatory for Human Rights said, citing foreign-backed militants in the area.
Rami Abdel Rahman, the observatory's director, said Joulani was hit in the foot.
The militants in Syria, including those belonging to the al-Nusra Front, have been receiving all forms of support from the West.
The al-Nusra Front has been behind many of the deadly bombings targeting both civilians and government institutions across Syria.
Syria has been gripped by deadly unrest since 2011. According to reports, the Western powers and their regional allies — especially Qatar, Saudi Arabia, and Turkey — are supporting the militants operating inside the country.
More than 100,000 people have been killed and millions displaced due to the turmoil that has gripped Syria for over two years.