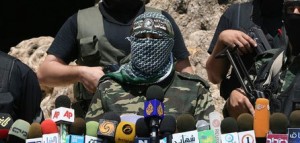 Abu Obaida, the spokesman for the Qassam Brigades the armed wing of Hamas, accused the Zionist occupation with trying to confuse the Palestinian resistance factions capturing Gilad Shalit and to foil the prisoners' exchange deal.
Abu Obaida, in a press statement on Sunday, said that the Zionist enemy obstinacy was aborting the deal including rejecting certain names.
He said, "We never changed our positions at all stages and still insist on the same conditions we set forth at the beginning", describing those conditions as "just, final and not for bargaining".
The spokesman denied that Hamas had halted military resistance option, adding that the battle against the ZO is long and the coming days would prove that resistance was not stopped.
History testifies that military, rather than peaceful, resistance was the one that defeated occupation, Abu Obaida concluded.