Palestine
Al-Qassam: Liberation of al-Aqsa our goal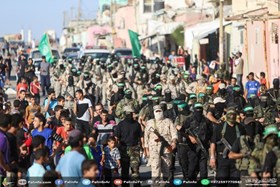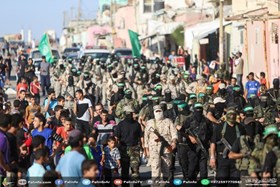 Hundreds of resistance fighters from the Qassam Brigades, the armed wing of Hamas Movement, paraded in Gaza streets on Saturday evening to mark the advent of Muslims' Eid al-Adha (the Sacrifice Feast). "Palestinians' joy will reach its zenith the day the liberation of Palestine and of the al-Aqsa comes true," said al-Qassam Brigades.
A Qassam leader said as he addressed the Palestinian masses: "Hamas resistance brigades will always sacrifice their lives and souls to defend the people, land, and holy sites." "The anti-occupation Palestinian youths will forever remain a thorn in the throat of the 'new Nazis' (in reference to the Israeli colonizers)," he added.
"The Palestinian resistance has become able to settle scores with the Israelis. We will cut the very hands that dare assail our children and women," he vowed.
"Self-abnegation has become a social phenomenon," the fighter further stated. "Every single Palestinian citizen opts for armed resistance as the only effective response to the Israeli aggressions."
"The Palestinian resistance will forever remain faithful to the souls of those who sacrificed their lives for the sake of their motherland. We will always track their footsteps. We either win and recover our holy al-Aqsa Mosque or else die at its doorsteps," he concluded.