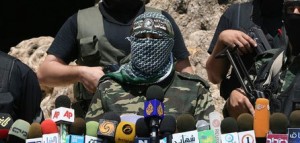 Al-Qassam Brigades, the armed wing of Hamas, on Wednesday renewed its vow to adhere to its demands and principles for the release of Palestinian prisoners from Israeli jails, especially those who serve long-term or life sentences.
"We will not forsake prisoners and will remain working on realizing their dream of freedom and emancipation from the grip of the Zionist criminals," spokesman for the Brigades Abu Obeida said in a statement posted on Al-Qassam website.
"Over many long years, we have been carrying the burden of prisoners' issue and placing it in the lead and on the top of our priority list," the spokesman added.
He pointed out that the prisoners' open hunger strike was only a mean to defend themselves and highlight their issue after many serious violations committed against them in Israeli jails in the presence of international silence.
In the same context, Palestinian minister of justice Mohamed Al-Ghoul said that the sit-in tent set up by the higher national committee for the defense of prisoners in Gaza city was intended for protesting at the continued policy of repression and terror practiced against Palestinian prisoners in Israeli jails.
Ghoul told a news conference on Wednesday on the sidelines of the sit-in that the Palestinian prisoners declared it loud and clear that they could not anymore tolerate the policy of violating and denying their rights that are guaranteed by international law.
The minister underlined that the prisoners have many just demands especially with regard to the termination of all policies of solitary confinement, medical neglect, harassment of detainees and their families during visits.
He appealed to local and international human rights organizations to necessarily break their silence towards the suffering of Palestinian prisoners in Israeli jails, stressing that the government will never give up their issue and will work on bringing it to light worldwide.
For his part, MP Jamal Al-Khudari, the head of the popular committee against the siege, stressed the need for pooling the efforts and experiences in order to support the Palestinian prisoners in their battle to restore their rights violated by Israel.
Khudari also called on all international organizations concerned with prisoners' rights to work on getting the Palestinian prisoners released from Israeli jails and prosecuting Israeli jailers responsible for the violations committed against them.