Palestine
Al-Rantisi: A profound memory in the Palestinians' hearts (report)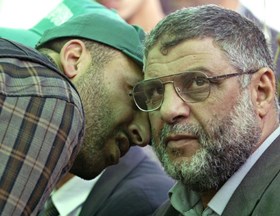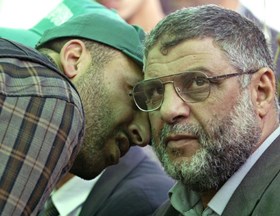 April 17, 2015, commemorates the 11th anniversary of the assassination of Abdel Aziz Al-Rantisi, an eminent leader and co-founder of Hamas Movement.
Childhood
Abdel Aziz Ali Abdel Hafith Al-Rantisi was born on October 23, 1947, in Yibna Village, between Ashkelon and Jaffa. After the occupation of most of Palestine at the hands of Zionist gangs in the 1948 war, when he was six months old, Al-Rantisi family fled to Khan Younis in the Gaza Strip. He had nine brothers and two sisters.
Education
Al-Rantisi enrolled in an UNRWA school and he had to work when he was six to help sustain his family.
He graduated from high school in 1965 and studied medicine at Alexandria University in Egypt in 1972. He later gained a master degree in pediatric medicine. Al-Rantisi worked as a resident physician in Nassir Hospital in Khan Younis in 1976.
Political life
Al-Rantisi was married and had six children, two boys and four girls. He had occupied different positions, including membership of the administrative body in the Islamic Society, the Arab Medical Association in the Gaza Strip, and the Palestinian Red Crescent.
He worked at the Islamic University of Gaza (IUG) since it was first established in 1978 as a lecturer of genetics and parasitology.
The Israeli authorities arrested Al-Rantisi in 1983 as he refused to pay the taxes to an occupying force.
Al-Rantisi was the first Hamas leader to be arrested after the first intifada had broken out on December 8, 1987. Following a quarrel with the Israeli soldiers who tried to break into his bedroom, Al-Rantisi was arrested on January 15, 1988, for 21 days.
He was arrested again after a month of his release and he remained in jail for two years and half. He was convicted of taking part in founding Hamas and writing the first leaflet for the first intifada. Al-Rantisi did not confess anything during the interrogations, so he was tried according to "Tamir Law". He was released in November, 1990, but was arrested again after three months and was put in administrative detention for a year.
In December, 1992, Al-Rantisi was deported to southern Lebanon, along with other 400 Hamas and Islamic Jihad operatives. He then emerged as the spokesman of the expellees who remained resistant to Israel's brutality in Marj Al-Zohour to put pressure on Israel and the international community to return to Palestine and to display their refusal for the decision.
Upon his return from Marj Al-Zohour, the Israeli authorities arrested him and the Israeli military court jailed him until 1997.
As he was released, Al-Rantisi began leading Hamas that was severely affected by the Palestinian Authority's grip in 1996. He, however, started defending the principles of Palestinians and encouraging a new phase of confronting the Israeli occupation. This, nonetheless, did not satisfy the PA that arrested him on April 10, 1998, after less than a year of his release from the Israeli jails. Some officials in the PA security apparatus told him that this act was taken under the Israeli pressure. He was set free after 15 months due to his mother's death while he was in jail.
The PA had arrested him three times later on, and he was released after going through a hunger strike and after the Israeli warplanes attacked the jail where he was kept. He was locked up in a cell, while all the officers had evacuated.
He spent around 27 months in the PA jails, and the PA forces tried to arrest him twice afterwards but the attempts failed as the Palestinian people took on their shoulders the protection of his house.
Al-Rantisi and Sheikh Ahmed Yassin were in the same cell in the Israeli jails. He wrote a number of poems showing his profound love for and belonging to Palestine. He also was a political writer for many newspapers.
On June 10, 2003, Al-Rantisi survived an Israeli assassination attempt as an Israeli helicopter targeted his car. One of his bodyguards died in the attack along with a number of passersby, including a child.
On March 24, 2004, two days after the assassination of Sheikh Yassin, Al-Rantisi was elected leader of Hamas in the Gaza Strip.
On April 17, 2004, the Israeli Apaches martyred Dr. Al-Rantisi and two of his bodyguards, turning him another Palestinian inexhaustible torch that lightening the path of the victory.