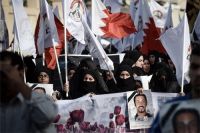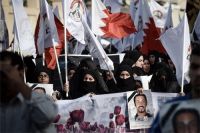 Bahrain's main opposition party, the al-Wefaq National Islamic Society, called for an immediate release of women activists detained by the al-Khalifa regime.
Al-Alam reported that the regime's courts have already handed down jail terms to many activists.
Al-Wefaq also condemned the Bahraini regime security forces for assaulting and denuding prominent activist Reyhana al-Mousavi, calling it another shameful stain in the regime's record.
It said the disrespectful act of regime forces has stirred the angers of many political groups all over the country.
Top Bahraini cleric Ayatollah Sheikh Isa Qasim also condemned the act, saying that the regime's acts reflect its detachment from Islamic, national, and humanitarian values and principles.
Al-Wefaq also called for all internal and foreign rights groups to take a solid stance against the increasing tortures of pro-democracy activists arrested by the Al Khalifa regime within holy month of Ramadan.
Al-Wefaq statement came after Bahraini pro-democracy activist al-Mousawi said earlier that the Al Khalifa regime forces tortured her physically and psychologically while in custody.
The Bahraini uprising began in mid-February 2011, when the people, inspired by the popular revolutions that toppled the dictators of Tunisia and Egypt, started holding massive demonstrations.