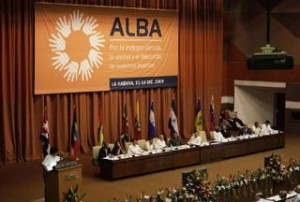 In a direct response to US attempts to weaken Iran's position in Latin America, a regional trade group known as ALBA promises closer ties with Iran.
At the end of a two-day meeting of ALBA, the Bolivarian Alternative for the Americas, the leaders pledged to further develop ties with Iran and denounced the US stance toward the Islamic Republic.
The US has on several occasions expressed dismay over Iran's soaring popularity in Latin America, which Washington regards as its "strategic backyard".
In fresh remarks on Friday, US Secretary of State Hillary Clinton alluded to Iran's business partners in Latin America, including Brazil, Venezuela and Bolivia, warning them of consequences of bolstering ties with Iran.
"We can only say that is a really bad idea for the countries involved," said the former first lady. "If people want to flirt with Iran, they should take a look at what the consequences might well be for them. And we hope that they will think twice," she said during a question-and-answer session at the State Department.
Earlier in May, she said that the US was "disturbed" by Iran's "gains" in the Latin America region.
"If you look at the gains, particularly in Latin America, that Iran is making …it's quite disturbing," said Clinton.
"They are building very strong economic and political connections with a lot of these (regional) leaders. I don't think that it's in our interests," she added.
The bloc reacted to Clinton's comments, with Venezuelan President Hugo Chavez rejecting the oft-states remarks as "ridiculous."
"It's ridiculous, the threat of the secretary of state, and we aren't afraid of her," Chavez said.
Bolivian President Evo Morales also said that his country would not back down from holding closer relations with Iran.
Formed in 2004, ALBA is an alliance for regional integration which focuses on solidarity, social justice and cooperation between the countries of Latin America and Caribbean. It was established as an alternative to the Free Trade Area of the Americas proposed by the US.
Other than Venezuela and Bolivia, the Islamic Republic of Iran enjoys growing relations with other Latin American countries namely Brazil and Ecuador.
In his very recent visit to Latin America in November, Iranian President Mahmoud Ahmadinejad traveled to Brazil, Bolivia and Venezuela, where he signed several cooperation agreements and memoranda of understanding with South American leaders on joint ventures.