Syria
Aleppo Suffers …FSA Commander to BBC: We're All Thieves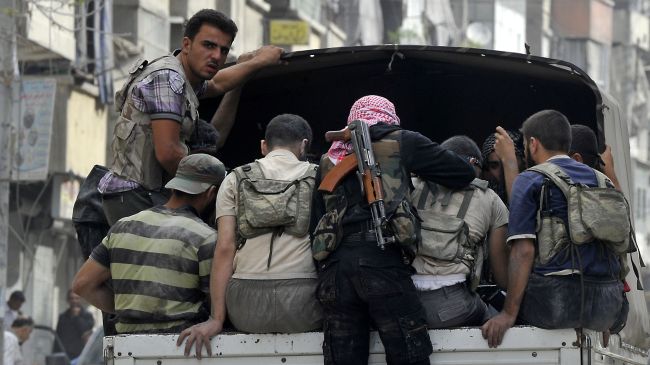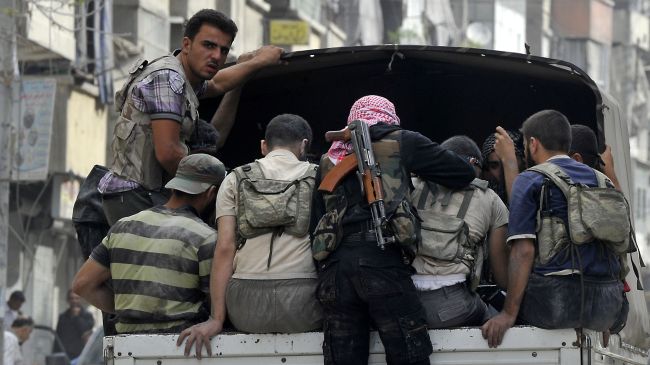 The so-called Syrian revolution turned to be nothing more than theft and looting.
According to a BBC report, Aleppo's people are fed of the so-called Free Syrian Army's performances.
In this context, people told the channel's correspondent that "living under the FSA rule isn't a happy experience."
As a rebel was trying to blame to the Syrian regime for bread shortage, he was waved away by a stout matron in a hijab and long black coat.
"Don't blame Bashar. What's happening to us is of our own making," she said.
The report further revealed that "it is widely believed in Aleppo that the bread shortage was caused by the FSA stealing flour to sell elsewhere."
"There's no bread. We have no gas, no diesel, no power," Said Um Mohammad, who said she used to live like kings.
With FSA presence, she's afraid of spelling what everybody knows: The flour shortage arose because FSA units stole the city's main warehouse.
"Flour heists by the FSA has led to long bread lines and volatile crowds at bakeries in Aleppo," the report stated, and noted that "daily life in areas under FSA control is turning out to be a disaster for the locals."
In a clear confession, one of the FSA officers stated that some units have no control over their men. Some commanders are stealing themselves. "We are all thieves," he said.
In this regard, the BBC said that an FSA official had been too nervous to grant them a permit to film at the bakery, for instance.
"Often people in bread queues start chanting slogans against the FSA," he said.
In parallel, the report mentioned that the beneficiaries of this are the hardline extremists, especially Jabhat al-Nusra, or the Nusra Front.
They have now taken over distribution of flour to bakeries in rebel-held areas of Aleppo. "None of the FSA brigades – all accusing each other of looting – trusted anyone else," the FSA officer said.
The BBC further mentioned that "the FSA's corruption, greed, and accusations of theft, looting and kidnapping for ransom," aren't the only problems."
They also highlighted that al-Nusra Front, the al-Qaeda affiliate in Syria, has wrested control of flour distribution out of the hands of the FSA.
On another level, BBC concluded that "the rebel's fight was not a fight for democracy."
Abu Lokman, one of Jabhat al-Nusra's commanders, wore a ski-mask for the interview. Outside his office were bearded fighters, including two in Yemeni dress, carrying traditional curved knives along with their Kalashnikovs and wearing the short dish-dasha of the pious.
A bag of explosives was delivered, a sample sent by a dealer. It was white powder – probably ground-up fertilizer and diesel. It was tested by setting a teaspoonful on fire.
As the emir was being interviewed, a trail of supplicants came and went.
Another al-Nusra fighter called Abdullah clearly confirmed: "The Nusra Front is the son of al-Qaeda."
"We are this close," he went on, rubbing his two index fingers together." He had worked in a woman's clothes shop before the crisis.
"No more dresses," he said. He would take the "jihad" to Somalia, Mali, Jordan, Iraq.
The report moved on to say: "The atmosphere in Aleppo has a touch of Paris in 1944: the mistrust and the score settling, the finger-pointing at collaborators, real or imagined"
This comes, as the correspondent clarified that "Aleppo has eight-hour bread queues, power cuts, children scavenging for rubbish to burn and trees in the parks all cut down for firewood."