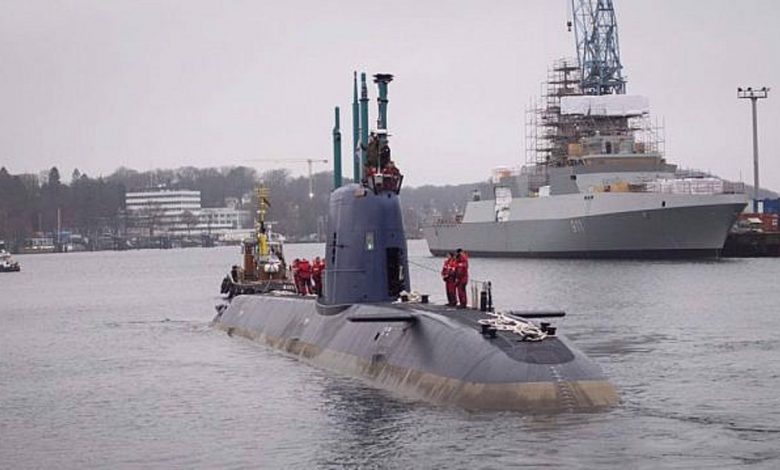 Algeria's navy forces have chased away a spying Israeli submarine that approached the country's territorial waters during the Algerian army's maritime drills in the western coasts.
The presence of the Israeli submarine off Algerian territorial waters was revealed by the Algerian naval forces during the naval exercise "Deterrence 2021", which was carried out by the army on Wednesday and Thursday in the coast of Oran, western Algeria.
Reporting the news, the Mena Defense website specializing in military affairs, said the drill, which saw the participation of many Algerian naval units, was intended to demonstrate the capabilities of in-depth attack or stealth destruction of targets at sea at very long distances.
The website said the Israeli Dolphin-class submarine appeared five kilometers from Algerian territorial waters, adding that it was trying to monitor the launch of an Algerian submarine "black hole" missile in order to track its path and find its range.
The Mena Defense report said an Algerian submarine of the "Kilo" type succeeded in detecting the presence of the Israeli submarine, and a decision was taken to chase it, forcing it to appear on the surface and leave the area.
"The Dolphin was detected by the acoustic systems of an Algerian Kilo submarine. The decision was quickly taken to pursue it aggressively without the use of sonar in order to avoid counter detection," the website said. "Being surrounded, the crew of the Dolphin preferred to surface to indicate that they were abandoning the mission and moved away from the Algerian coast.
Pointing to the objectives of the Israeli submarine's presence, the report said they must have been "intelligence and technical information gathering" since it was expected that at least one Algerian submarine would fire one or more missiles.
"In this case, the Dolphin would have obtained the precious acoustic signature indicating the opening of the missile racks and would have recorded the sound of the firing preparation and firing routine; valuable information that could help predict the actions taken by Algerian crews in the event of a conflict," the website said.
"The fact that the exercise is complex and involves many warships, was also an opportunity to make electronic intelligence and collect data on the transmissions of the Algerian Navy and their encryption," it added.
On September 29 and 30, the Algerian army conducted the "Deterrence 2021" in the presence of the Algerian Army Chief of Staff, Lieutenant-General Said Chanegriha, and the Commander of the Naval Forces, Major General Mahfouz Ben Maddah.