Africa
Algerian FM Calls for Bolstering Economic Ties with Iran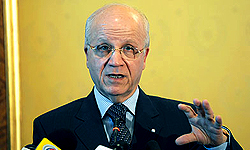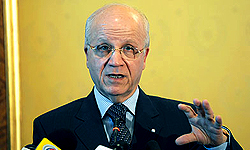 Algerian top diplomat Mourad Medelci in a meeting with Iranian Vice-President Mohammad Reza Mir-Tajeddini underlined strengthening economic relations between Iran and Algeria.
During the meeting on Wednesday, Medelci called for the development of economic relations between Tehran and Algiers, particularly between their private sectors.
"Regional nations should decide for their destiny themselves without any foreign interference," he added.
Mir-Tajeddini, for his part, asked for the expansion of relations between the two countries, noting that Iran is ready to transfer its experience in all fields, including science and industry, to the brother country of Algeria.
"Outside interference will complicate Syria unrests much more while the issue has political solution; Muslim nations should avoid sectarian violence unitedly," he underlined.
Mir-Tajoddini told reporters upon arrival at the Algeria's airport that the main goal of his visit is to submit President Mahmoud Ahmadinejad's invitation letter to President Abdelaziz Bouteflika to attend Non-Aligned Movement Summit in Tehran in September.
In recent years, Iran has sought hard to boost ties and cooperation with Africa.
President Ahmadinejad has repeatedly underlined his administration's resolve to continue support for stronger ties between Tehran and African nations.
Iran is an observing member of the African Union and has shown an active presence in previous AU summit meetings.