Africa
Algerians take to streets again to protest Boteflika's bid to stay in power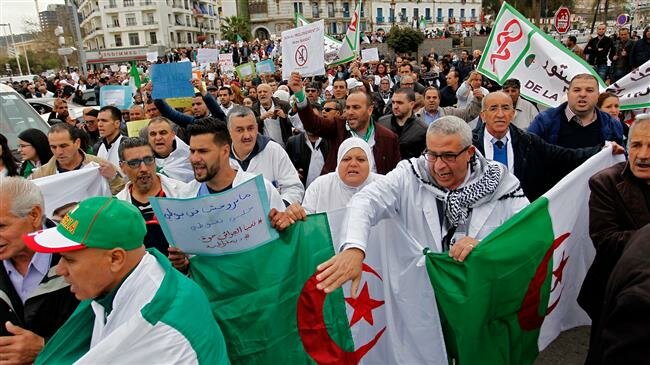 Algerians hold a fresh protest in the capital shortly after the country's 82-year-old president said he will stay in power when his term expires next month.
The Tuesday rallies saw tens of thousands of protesters, including students, university professors and medics, swarming the central part of Algiers, AFP reported.
"Students are committed, the system must go!" the pupils shouted.
Tuesday also marked the anniversary of the country's 1962 independence from France. "March 19, 1962: End of the Algerian [independence] war… March 19, 2019: Beginning of a system change," read one sign.
President Abdelaziz Bouteflika has been in power for the past 20 years. He is reportedly in poor health conditions after suffering a stroke in 2013.
The rallies erupted last month after he announced plans to contest a fifth term.
Protesters say they disapprove of the country's old political system, which is dominated by veterans of the 1954-1962 independence war, including the president himself.
Opponents have also cited suspicion that the president was being kept in office to protect the grip of the military and business elite.
Last week, he succumbed to the protesters' demand, abandoning his new presidential bid. He also postponed the election set for next month, and announced he was rolling out reforms through a "national conference."
On Monday, however, he said he would be remaining in office following the end of his term, which will also expire next month.
Bouteflika has, meanwhile, refused to give any timetable for his national conference, sufficing to say that Algeria's "political, economic, and social systems" would start undergoing an overhaul "in the very near future."