Africa
Algerians want all old-regime figures to leave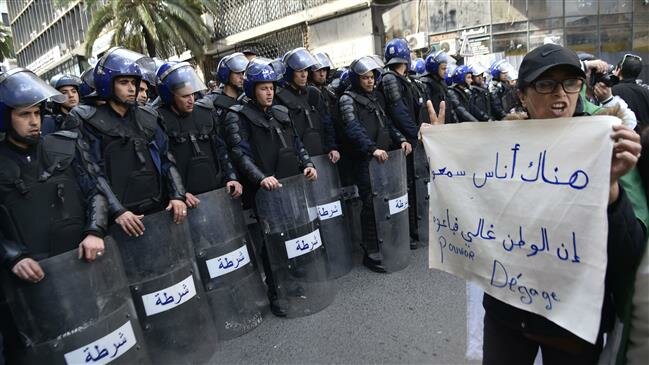 Algerian police have tried but failed to break up protests taking place in the capital, Algiers, demanding the departure of all figures associated with the regime of ousted president Abdelaziz Bouteflika.
Chanting "They will all leave," protesters gathered outside the Grand Post Office — the epicenter of the anti-regime rallies that erupted on February 22 — on Friday after social media calls for protests to demand the ouster of Bouteflika's close allies.
Riot police tried to disperse the protesters but were surrounded by hundreds of them, effectively being overwhelmed. The demonstrators then cleared a path for the police forces to withdraw, chanting "Peaceful, Peaceful."
Police and troops had initially tried to block off access to the landmark site. Demonstrators, however, defiantly made their way to the site.
"We will be out in large numbers, very large. They don't know what's coming. They won't be able to do anything against us," Yassine, a 23-year-old protester, said before the protests began.
The Friday gathering was the first since the government announced the date of a new presidential election. According to a Wednesday statement, the country will hold the vote on July 4.
The announcement followed the appointment of the speaker of the upper house of the Algerian parliament, Abdelkader Bensalah, as interim president, following the resignation of ailing Bouteflika in the face of weeks of mass demonstrations against his rule.
But the appointment of Bensalah has failed to meet the demands of the protesters, who call for the downfall of the old regime in its entirety. The protesters say voting cannot be free and fair if it is organized within the same judicial framework and by the same institutions as those that operated under Bouteflika.
Meanwhile, Bensalah has received the implicit support of the armed forces chief Ahmed Gaid Salah, who ditched Bouteflika following weeks of protests. The army chief on Wednesday also warned against "slogans aimed at leading the country to a constitutional void and destroying state institutions."
Bouteflika announced his resignation on April 2 following weeks of protests against his rule that erupted over his decision to seek a fifth term. The 82-year-old had been in power for the past 20 years but was reportedly in poor health and had rarely appeared in public after suffering a stroke in 2013.