Syria
All countries must stop fueling bloodshed in Syria: UN chief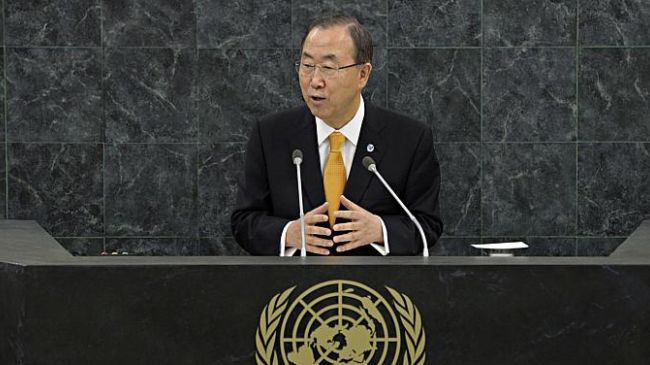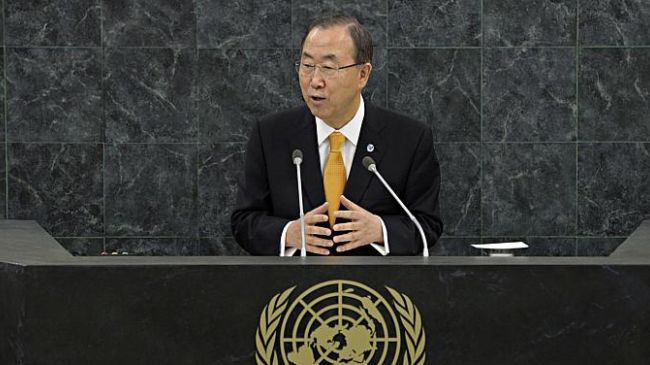 UN Secretary-General Ban Ki-moon has urged all countries to stop fueling the bloodshed in Syria by dispatching weapons, and push for a political solution to the crisis in the Arab state.
"I appeal to all states to stop fuelling the bloodshed and to end the arms flows to all parties," Ban said, addressing the 68th session of the UN General Assembly in New York on Tuesday.
He said all countries should bring the sides involved in the conflict to the negotiating table to end the "biggest challenge to peace and security in the world."
Ban also called on the Syrian President Bashar al-Assad's government and "all those in this hall with influence over them" to push for a peace conference as soon as possible to bring the ongoing crisis in Syria to an end.
He said the war in Syria has so far claimed the lives of over 100,000 people and forced one-third of the country's population to flee their homes.
"Military victory [in Syria] is an illusion. The only answer is a political settlement," the UN head stated.
Regarding the use of chemical weapons in Syria, Ban said the international community must bring the perpetrators to justice in accordance with the findings of the UN investigators.
He further emphasized that it is the international community's responsibility to ensure the safeguarding and destruction of Syria's chemical arsenal.
"I look forward to the imminent adoption of an enforceable Security Council resolution on chemical weapons. This should be followed immediately by humanitarian action," he said.
Hundreds of people were killed and scores of others were injured in a chemical attack near Damascus on August 21.
The militants operating inside Syria and the foreign-backed Syrian opposition claimed that the deadly attack was carried out by the army.
Damascus, however, has strongly denied the accusation, saying it was a false-flag operation carried out by the Takfiri groups in a bid to draw in foreign military intervention.
Following the chemical attack, US called for punitive military action against Damascus. The Syrian government averted possible US aggression by accepting a Russian plan to put its chemical arsenal under international control and then have them destroyed.