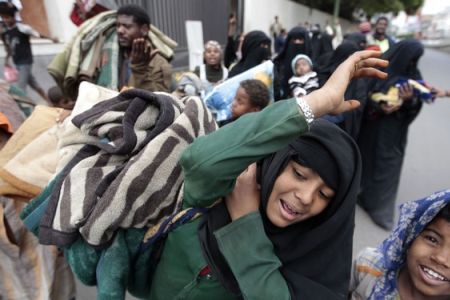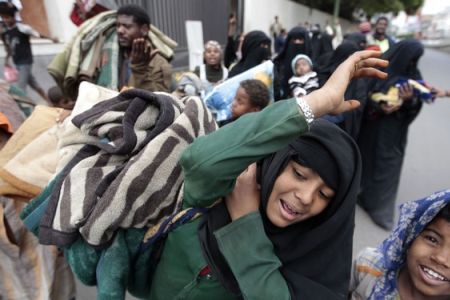 Forces loyal to the Yemeni President Ali Abdullah Saleh have blocked all the entrances to the capital to prevent tribesmen from joining heavy clashes there.
The entrance ban was imposed on Wednesday as armed clashes between Yemeni security forces and the members of the country's most powerful Hashid tribe entered the third day.
The tribesmen have reportedly taken control of several government buildings in the capital, including the national airline building and the headquarters of the state, according to news agency Saba.
Witnesses say hundreds of people are fleeing the capital, seeking safety elsewhere.
"It's no longer possible to stay in Sana'a. The confrontations will reach all parts of the city. I am afraid for my life. I will go to my village in Ibb. The situation there is safe", said Murad Abdullah as he left by car.
Clashes between President Saleh's troops and tribesmen loyal to Sheikh Sadeq al-Ahmar, head of Hashid tribe broke out in the Hassaba district of Sana'a on Monday after Yemeni security forces moved against the tribal leader's compound.
A tribal official speaking on the condition of anonymity said hundreds of Hashid fighters were moving in from outside Sana'a to al-Ahmar's house to protect it. Al-Ahmar joined the opposition in March.
Meanwhile, the isolated Yemeni president, who has been in power for almost 33 years, has once again rejected calls to step down. He also said that he is prepared to escalate the fight against the opposition tribes.
Since late January, hundreds of thousands of anti-government protesters have been staging anti-Saleh protest rallies across the country on a daily basis. The Yemeni protesters are calling for the immediate ouster of Saleh.