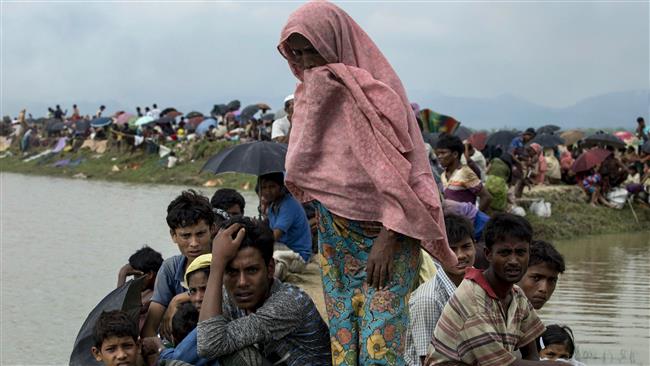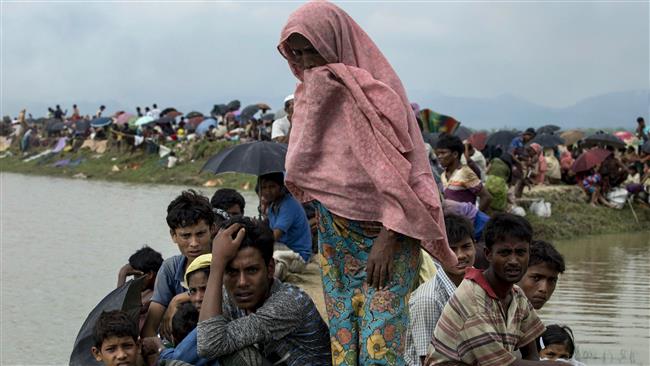 A Myanmarese rights group has warned against the rising government-backed persecution of all Muslims across the country, and not just those in Rohingya-majority Rakhine State, which has been under a bloody army clampdown for more than a week.
The independent Burma Human Rights Network said in a Tuesday report that the persisting repression of Muslims across the East Asian country was backed by government authorities, elements among the country's majority Buddhist monks as well as ultra-nationalist civilian groups.
The report by the UK-based institution obtained its data from over 350 interviews in more than 46 towns and villages over an eight-month period since March 2016.
"The transition to democracy has allowed popular prejudices to influence how the new government rules, and has amplified a dangerous narrative that casts Muslims as an alien presence" in the Buddhist-majority country, the report added.
Besides Rohingya Muslims, the report further examines the broader portrait of Muslims of various ethnic groups throughout Myanmar following waves of communal violence against them in 2012 and 2013.
According to the report, government authorities have refused to issue national identification cards for many Muslims from all ethnicities, denying them access to Islamic places of worship in some areas.
Myanmarese officials have offered no immediate reaction to the report.
The Naypyidaw government continues to reject widespread allegations of discrimination against the country's Muslim population, insisting that army forces in the northern state of Rakhine are waging a legitimate campaign against "terrorists."
In Rakhine State, the report highlighted increasing segregation between Buddhists and Muslim communities as well as harsh travel restrictions against Rohingya Muslims and limits on their access to health care and education.
At least 21 villages around Myanmar have declared themselves "no-go zones" for Muslims, in a government-backed move, added the report.
The latest wave of violence in Rakhine state started on August 25, when an armed group, which is said to be defending the rights of Rohingya Muslims, attacked dozens of police posts and an army base.
The ensuing clashes and a military offensive have killed at least 400 people and forced tens of thousands of villagers to flee towards neighboring Bangladesh.
Myanmar's de facto leader Aung San Suu Kyi has come under increasing pressure from countries with large Muslim populations — including Bangladesh, Indonesia and Pakistan — to halt the violence against Rohingya Muslims, after nearly 125,000 of them fled to Bangladesh, according to the new figures released by the UN on Tuesday.
Indonesian Foreign Minister Retno Marsudi met the Nobel Peace Prize laureate and Myanmar Army Chief Min Aung Hlaing on Monday to call on Myanmar to halt the bloodshed.
"The security authorities need to immediately stop all forms of violence there and provide humanitarian assistance and development aid for the short and long term," Retno said following her discussions in the Myanmarese capital.
Indian Prime Minister Narendra Modi is also due in Myanmar later in the day for talks with officials on the crisis in Rakhine.
Myanmar's government brands more than one million Rohingya Muslims in the country as "illegal immigrants" from Bangladesh. Rohingya Muslims, however, have had roots in the country that go back centuries. They are considered by the UN the "most persecuted minority group in the world."
There have been numerous eyewitness accounts of summary executions, rapes and arson attacks by the military since the crackdown against the minority group began.
The United Nations believes the government of Myanmar might have committed ethnic cleansing and crimes against humanity in its crackdown.