Palestine
All Palestinian prisoners wage mass hunger strike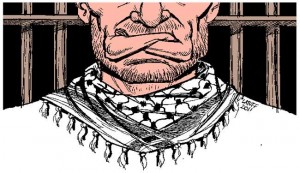 Nearly all Palestinian prisoners in Israeli jails have waged a one-day hunger strike to express solidarity with Palestinian inmates that have been on strike for nearly two weeks to protest their so-called administrative detention by the Tel Aviv regime without charge or trial.
Nearly 5,100 Palestinian held captives by the Israeli regime were to begin the one-day hunger strike on Thursday, said the Palestinian Authority's Undersecretary of the Ministry of Prisoner Affairs Ziad Abu Ein on Wednesday, Ma'an news agency reported.
Moreover, the report added, nearly 50 convicted prisoners would also start an open-ended hunger strike on Thursday in solidarity with the striking inmates on "administrative detention."
More than 100 Palestinians in Israeli prisons launched a mass, open-ended hunger strike on April 24 to protest their continued detention without trial.
"Administrative" detainees are often kept in the Israeli regime's prisons for months and without access to lawyers, even though international law stipulates that such a scheme should only be employed in exceptional circumstances.
As of April 1, there were 186 Palestinians held in administrative detention in Israeli jails, including nine Palestinian Legislative Council members, according to the prisoners' rights group Addameer.
Meanwhile, more than 800,000 Palestinians have been detained since 1967, with 5,224 currently being held in Israeli prisons, according to the Palestine Liberation Organization (PLO)