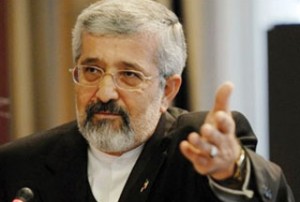 Iran's envoy to the UN nuclear watchdog says the director general's silence over Tehran's objections made to the report shows that he too recognizes its problems.
"The silence adopted by the Director-General and certain others about the objections we had made shows that [Yukiya] Amano has also reached the conclusion that the report is somewhat problematic," Ali-Asghar Soltanieh said on Wednesday.
The Iranian ambassador to the International Atomic Energy Agency, who was talking to reporters after the IAEA Board of Governors meeting in Vienna, added that Amano's February report raised already closed issues without any cause.
Soltanieh said the report reintroduced past issues while the only new development in Iran's nuclear program since the beginning of Amano's term was that the IAEA supervised steps taken to enrich uranium up to 20 percent.
The envoy, who had criticized the report in his address to the Board, said that over 100 countries of the Non-Aligned Movement (NAM) has also raised similar concerns about the report in a statement issued in support of Iran's peaceful nuclear program.
"Fortunately, the Egyptian ambassador who was speaking on behalf of more than 100 NAM states read out a very strongly-worded statement in support of Iran, directly criticizing the new Director-General's report for the first time.
"The Egyptian ambassador once again stressed that every country has the right to conduct peaceful nuclear activities, urging the normalization of Iran's safeguards agreement and an end to this issue," he said.
Last month, the new IAEA director general issued his first report on Iran's nuclear program, once again verifying the non-diversion of declared nuclear material in Iran.
Amano's report, however, did raise some concerns about "the possible existence… of past or current undisclosed activities related to the development of a nuclear payload for a missile."
While the US used that segment of the report to renew its threats against Iran, Tehran pointed out that the report raised no "new cause for concern", but simply addressed a series of past issues already examined by former IAEA chief Mohamed ElBaradei.
The newly-issued NAM statement however condemned threats of a military strike against Iran.
The NAM statement said, "NAM confirms the basic and inalienable right of all states to the development, research, production and use of atomic energy for peaceful purposes, without any discrimination and in conformity with their respective legal obligations."
"Therefore, nothing should be interpreted in a way as inhibiting or restricting the right of states to develop atomic energy for peaceful purposes," it added.
"States' choices and decisions including those of the Islamic Republic of Iran in the field of peaceful uses of nuclear technology and its fuel cycle policies must be respected," the 118-member movement said in its statement.
"NAM reaffirms the inviolability of peaceful nuclear activities and that any attack or threat of attack against peaceful nuclear activities, operational or under construction, poses a serious threat to human beings and the purposes of the Charter of the United Nation and of the regulations of the IAEA."