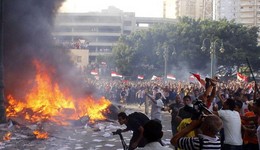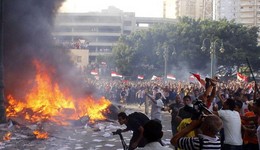 Three people were killed in Egypt, including an American, during rival demonstrations for and against President Mohamad Mursi ahead of Sunday's anniversary of his turbulent maiden year in office.
Mursi's opponents have called nationwide protests for Sunday to demand that he step down, sparking counter-demonstrations by the Muslim Brotherhood and its Islamist allies that have triggered often bloody clashes.
The US citizen was killed as he took photographs of a demonstration in the Mediterranean coastal city of Alexandria, Egyptian officials said.
"We can confirm that a US citizen was killed in Alexandria, Egypt," State Department spokesman Patrick Ventrell said in a statement.
A statement posted on the website of Kenyon College in Ohio, said US embassy officials had identified him as one of their students, Andrew Pochter, 21, from Maryland.
He had been working as an intern at AMIDEAST, an American non-profit organisation, the statement added.
Another man was killed earlier during the clashes in Alexandria.
In the canal city of Port Said, an Egyptian journalist was killed and several other people injured after someone threw a small explosive device at anti-Mursi protesters, a security official and witnesses said.
Clashes also erupted in the Nile Delta provinces of Daqahliya and Beheira.
Across the country more than 130 people were wounded, security officials said.
The offices of the Freedom and Justice Party (FJP), the political arm of the Muslim Brotherhood, were torched in Alexandria and at Aga in Daqahliya, and its offices were stormed in Beheira.
For its part, Washington warned against travel to Egypt, with the State Department also authorized the departure of non-essential embassy staff for fear of further deadly violence.
"We urge all parties to refrain from violence and express their views peacefully," US State Department spokesman Patrick Ventrell said.
"And political leaders have the responsibility of taking steps to ensure that groups do not resort to violence."