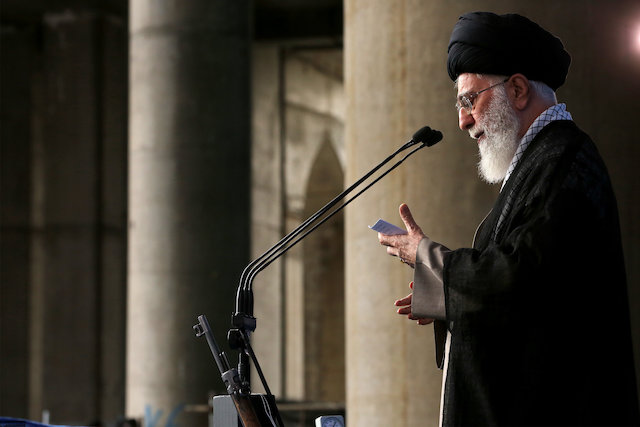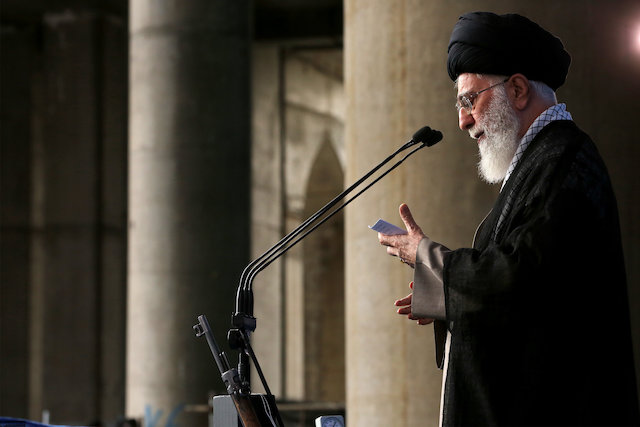 The following is the full text of the sermons delivered on July 6, 2016 by Ayatollah Khamenei, the Supreme Leader of the Islamic Revolution, at the Eid ul-Fitr prayers in Imam Khomeini (r.a.) Musallah in Tehran.
First Sermon:
In the Name of Allah, the Beneficent, the Merciful
All praise is due to Allah, the Lord of the Worlds. "All Praise is due to Allah, Who created the heavens and the earth, and made the darkness and the light. Yet those who reject faith hold others as equal, with their Guardian-Lord" [The Holy Quran, 6: 1]. And peace and greetings be upon our Master and Prophet, Ab-al-Qassem al-Mustafa Muhammad and upon his immaculate, pure and chosen household, especially the one remaining with Allah on earth. We praise Allah, we thank Him, we seek His help, we ask for His forgiveness and we repent to Him.
I would like to congratulate all you honorable participants, dear performers of prayers, all the people of Iran and the great Islamic Ummah on the occasion of Eid ul-Fitr. In order to show the greatness of this Eid, it is enough to say that in the qunuts of Eid ul-Fitr prayers, we take an oath to Allah the Exalted on the blessedness of this day. This shows the significance of this day. The conclusion of one month of praying, supplication, dhikr, humility and service by pious individuals is a day of eid for all people and it is a day of honor and dignity for the Holy Prophet (s.w.a.).
What I want to say in this sermon is that our pious people thankfully spent a good Ramadan. They spent a month of Ramadan which was imbued with spirituality, attention to God, supplication and humility. We officials of the country should envy these pious people and these enlightened hearts and we should thank God for bestowing on us this responsibility towards our pious people. The people throughout the country were fasting in the longest and hottest days of the year. They endured the heat while they were fasting. Even our youth and teenagers turned to fasting in an enthusiastic and ardent manner. Some people – some evil hands – tried to drag our teenagers towards ruzekhari [the act of eating and drinking in front of fasters in the holy month of Ramadhan]. However thank God, they did not succeed and they will not succeed in the future either.
Despite this, the officials of the country and the masses of the people should pay attention that what plans and plots our evil and vicious enemies have been thinking of. In order to make this blossoming generation of the country drift away from religion, they sit and plan and they devise schemes so that they can drag the teenagers towards ruzekhari. Thank God, the people punched them in the mouth.
This month was a month of divine feast. A divine feast involves divine catering. Divine catering in this month is the enlightenment of hearts, the forgiveness of sins and the blessing to carry out great and good tasks. One of the most important tasks was the great rally that was held throughout the country on the last Friday of this blessed month – on Quds Day – on the urging of Imam (r.a.) and at his insistence. This rally was held in many other Muslim countries as well. On Friday – Quds Day – the weather was very hot in some of our cities. People do not usually step out in such heat, but our people came and participated. This happened everywhere in the country, particularly in those cities which are located in hot provinces – the southern provinces of the country. The people truly did a jihadi task.
With their fasting mouths and in the sun, they came and declared their position on the important issue of Palestine. This means that even if some Muslim governments betray the Palestinian ideal, even if some individuals shirk their responsibilities in this regard and even if some nations are not aware of the issue, the people of Iran are prepared, with their presence and cries, to stand up against all the enemies and to keep the issue of Palestine alive.
This year in the month of Ramadan, the whole country was a great exhibition of signs of the people's orientation towards spirituality and of glorious Quranic meetings. Thankfully, this was reflected in the best way possible in the national media. The people welcomed the recitation of the Holy Quran chapter by chapter. This collective practice has become common in holy places. This year, this practice was common in many cities.
The people's iftar meals, was another phenomenon. Particularly in Tehran, the people spread iftar sufrehs in Hussainiyahs, mosques, streets, neighborhoods and alleys and they invited passersby to eat and they accepted their invitation. I have not received a clear report about provincial cities. Of course, in some holy places – such as Astan Quds Razavi – there were a number of public iftar meals. They brought me the photos of these public meals in Tehran. All this enthusiasm and interest in spirituality and this act of rendering services to one another really touches us. This is one of the tasks that became common this year. Of course, it existed in previous years as well, but this year it was witnessed more.
In Tehran, this practice is almost all-inclusive. And it should naturally exist in provincial cities as well, although I do not have exact and clear information in this regard. This is against those extravagant and lavish iftar meals which were very costly. Such iftar meals were not given to the needy either. Sometimes, such meals are offered by government organizations. There is no reason behind this course of action. For example, they gather some individuals in hotels and they give iftar meals to those individuals who do not need them at all. The thing that the people did this year is against that course of action. Some people who called themselves "devoted street roamers" – which is a real name – knocked on the people's door and gave them iftar meals. They have reported many such cases to me and they have brought me photos of it. They gave people iftar meals at their door! These are very great tasks. These are very valuable tasks.
Besides these iftar meals, there was praying from night to dawn. Such events were held in mosques, Hussainiyahs and different other places particularly during the Nights of Qadr. They were even held at the tomb of martyrs! The people gathered in such places and drew their hearts' attention to God. All of these are a means for attracting divine mercy.
Performing itikaf in the last 10 days of the month of Ramadan is also turning into a tradition which is growing on a daily basis. By Allah's favor, this will be a blessed phenomenon as well.
I have been informed that some honorable physicians treated the people for free in some days and nights of the month of Ramadan. This means that such self-sacrificing acts are common among all the classes of people. Such was the month of Ramadan that passed. Such a month of Ramadan is a source of attracting divine mercy, God willing.
And today, which is Eid ul-Fitr, is a day for showing our respect towards the Holy Prophet (s.w.a.): "You Who have turned this day into an Eid for Muslims. You Who have turned this day into a source of dignity, greatness and abundance for Muhammad (God's greetings be upon him and his household)" [al-Iqbal, page 289]. This is a way for the people to respect the Holy prophet (s.w.a.). Allah the Exalted said about the Holy Prophet, "It grieves him that you should suffer. Ardently anxious is he over you" [The Holy Quran, 9: 128]. It is difficult for him to witness the people's sufferings.
Dear God, by the blessedness of Muhammad (s.w.a.) and his household (a.s.), turn this month of Ramadan and this Eid ul-Fitr into an auspicious occasion for the people of Iran and for Muslims throughout the world.
 "In the Name of Allah, the Beneficent, the Merciful
I swear by the time,
Most surely man is in loss,
Except those who believe and do good, and enjoin on each other truth, and enjoin on each other patience" [The Holy Quran, 103].
Second Sermon:
In the Name of Allah, the Beneficent, the Merciful
All praise is due to Allah, the Lord of the Worlds, Whom we praise, from Whom we seek help, to Whom we repent, and to Whom we return and peace and greetings be upon His beloved and noble one, the best among His servants, our Master and Prophet, Ab-al-Qassem al-Mustafa Muhammad, and upon his immaculate, pure and chosen household, especially upon the Commander of the Faithful, his beloved Zahra al-Marziah, the Mistress of all Women, Hassan, Hussein – the master of the youth of paradise – Ali ibn al-Hussein, Muhammad ibn Ali, Ja'far ibn Muhammad, Musa ibn Ja'far, Ali ibn Musa, Muhammad ibn Ali, Ali ibn Muhammad, Hassan ibn Ali and Hujjat al-Qaem al-Mahdi, Your representative among Your servants and trustworthy ones in Your land.
I invite all the dear brothers and sisters to observe divine piety. What I would like to say in this sermon is related to the world of Islam and the Islamic Ummah. Unfortunately, the peoples' eid turned into mourning in some countries. In Baghdad, several hundred families witnessed the loss of their dear ones at the hands of criminals, terrorists and those who want to promote a fake and phony version of Islam among the people at the command of their masters. Moreover, the people in Istanbul, in Bangladesh and in some other countries were exposed to terrorist attacks in the days of the month of Ramadan while they were fasting.
This is the work of intelligence services – particularly the dangerous hands of American, Zionist and English intelligence services – which have cultivated terrorism. It is they who have created terrorism in the world of Islam. Of course, they themselves will be harmed by this as well. In the present time, they are gradually witnessing this. But this is their sin and crime anyway. This is a crime which will not be forgotten.
Unfortunately in the month of Ramadan, the fire of war was ignited in some Islamic countries – in Syria, in Yemen, in Libya and in some other areas. One really becomes sad to see that the world of Islam is in such a situation. Some people turned political disputes into a civil war. It is one thing to be engaged in a political dispute, but it is quite another to be engaged in a civil war. It was the interference of superpowers which caused this in Syria and in some other countries. In Yemen, it is more than a year and a half now that the people have been suffering from bombardment. But well done to the people of Yemen who managed to hold that magnificent rally on Quds day despite that hot weather and those bombs! Well done to those people and well done to the wise leader of the people of Yemen! In Syria too, the people are suffering from a great disaster which has been imposed on them by arrogance.
The enemies are trying to consign the issue of Palestine to oblivion. They want to make the world of Islam get involved in its own domestic issues so that it forgets the issue of Palestine and so that they can create an opportunity for the Zionist regime to pursue its vicious goals. We should know that fighting for the freedom of Palestine is an Islamic fight, one that is all-inclusive. This is not a purely Arab fight. It is the responsibility of Muslims – everywhere in the world – to continue this fight, this cry, and this movement in whatever ways they can. Reducing an issue of such significance to a domestic Arab issue is a wrong course of action.
I would like to raise an issue about the domestic affairs of the country: the issue of these unfair and unjust salaries and payments from public funds. This has been spread among the people and they pass the news to one another. These payments are illegitimate and sinful! These payments are a betrayal of the ideals that belong to the Islamic Revolution! Without a doubt, some people have behaved in a negligent and ignorant manner in the past. Therefore, this should be made up for. It should not be the case that we kick up some fuss and then conclude the matter and consign it to oblivion completely. This should be pursued.
Fortunately, the honorable President and the heads of the other two government branches have committed themselves to pursuing this matter. This issue should be pursued seriously and illegitimate payments should be returned. If some people have broken the law, they should be punished, and if the law has been abused, they should be dismissed from their jobs. They are not individuals who deserve to be in those centers.
Of course, you should notice that the enemies of the Islamic Republic want to use this as an excuse against it. Such individuals are not large in number compared to the large number of those managers and personnel who are working in a pure and sincere manner. However, even this small number is harmful. Even this small number is a flaw. Therefore, they should eliminate this flaw. We have identified the detriments of poverty. We formulate plans for these detriments and we hold meetings to that end. But it seems as if we did not truly understand the detriments of drunkenness resulting from an aristocratic lifestyle. When an aristocratic lifestyle, waste and extravagance exist in society and when such things are promoted, this is what will follow it.
Everyone is looking for something to gorge on, everyone is looking to fill their stomachs with such haraam money. This phenomenon should be confronted in a serious manner. The issue of dismissing such individuals and returning those sums of money – which have been gotten out of public funds in an illegitimate manner – should be placed at the top of the agenda. This is the responsibility of everyone. This issue is important to the people. Should this not happen and should it not be pursued, the people's trust in the system will decrease. If this happens, it will be a great disaster. The people's trust should be preserved with serious actions. I hope that Allah the Exalted will bestow success on all officials.
 "In the Name of Allah, the Beneficent, the Merciful
Say: He, Allah, is One.
Allah is He on Whom all depend.
He begets not, nor is He begotten.
And none is like Him" [The Holy Quran, 112].
Greetings be upon you and Allah's mercy and blessings