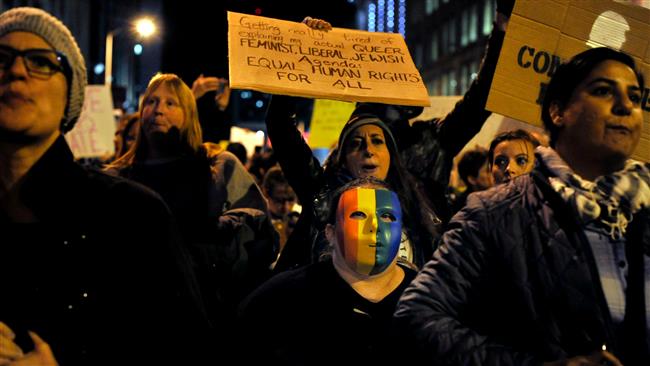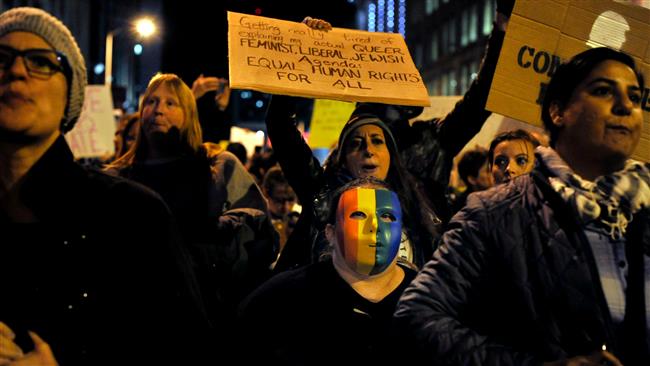 Thousands of American people have poured into the streets of New York and several other US cities to protest against the results of presidential election which led to the victory of Donald Trump. The protesters marked the third night of mass demonstrations on Friday night after Trump clobbered his Democratic rival Hillary Clinton in Tuesday's voting.
The American people protesting against the results of the presidential elections are annoyed with the establishment and the reliance on Electoral College system, chairman of the African People's Socialist Party Omali Yeshitela told Press TV.
"The biggest problem that most of the protesters have is the reliance on the electoral process in this country for solving the deep-rooted contradictions that working people and certainly Africans and Mexicans and indigenous people suffer from and have suffered from historically," he said.
Yeshitela touched on the potential implications of Trump's policies and what they might mean in terms of disrupting the lives of some people.
"The reality is that African people in this country who live as colonial subjects and indigenous Indians are suffering from inequality for a long time," he told the Press TV's "The Debate" program.
"The problem is that they (the American authorities) stupidly believe that they can resolve issues at the expense of Africans and Mexicans and Iranians and other oppressed people around the world."
He said both the Democrats and the Republicans have been custodians of the "imperialist system."
Scott Bennett, a political commentator, told the panel discussion that the new protests were a "flash in the pans" and would be disintegrated.
He said the American people voted for Trump "really for peace agenda and stopping this war agenda," which, Bennett said, has been propped up by the Obama administration, former secretary of state Hillary Clinton and neo-conservatives.
Trump's disparaging remarks against minorities in the US have worried many. His controversial comments include a call to ban all Muslims from coming to America as well as stopping Mexican migrants by building a long wall along the US-Mexico border.