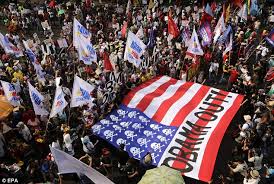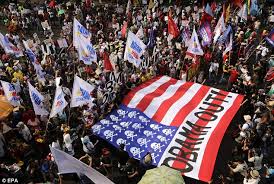 A large majority of Americans are not satisfied with the direction the United States is going, according to a new Pew Research Center opinion poll.
The survey showed 71 percent of respondents said that they are dissatisfied with national conditions and just 26 percent said they are satisfied.
Forty-nine percent believe this year will be a better year than 2014 and 42 percent said it will be worse, found the poll conducted last month.
The survey also said the current ratings "are more pessimistic than in recent years, as the public generally takes an optimistic view of the year to come."
Last year, 56 percent thought 2014 would be a better year than the last.
The victory of Republicans in the midterm elections played a significant role in the poll.
In November, the Republican Party gained full control of Congress.
Sixty percent of Democrats expect this year to be better than last year, which is drop of 21 points from a year ago when 81 percent thought 2014 would be better than 2013.
Meanwhile, a new Gallup poll shows President Barack Obama with a 43 percent December approval rating at the end of his sixth year in office.
Former president George W. Bush saw a 37 percent approval rating at the end of his sixth year in 2006.
The poll also said that former president Bill Clinton enjoyed 67 percent approval rating and Ronald Reagan 48 percent at the same time.