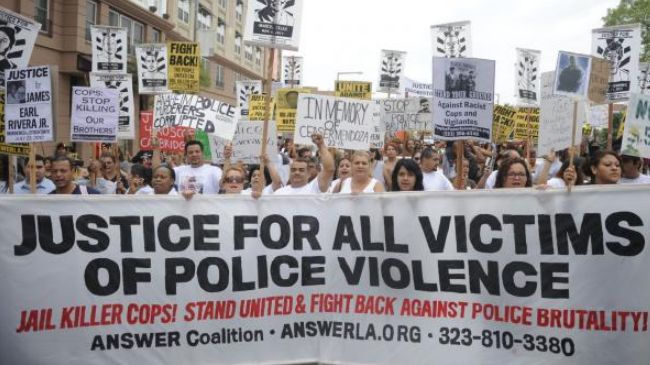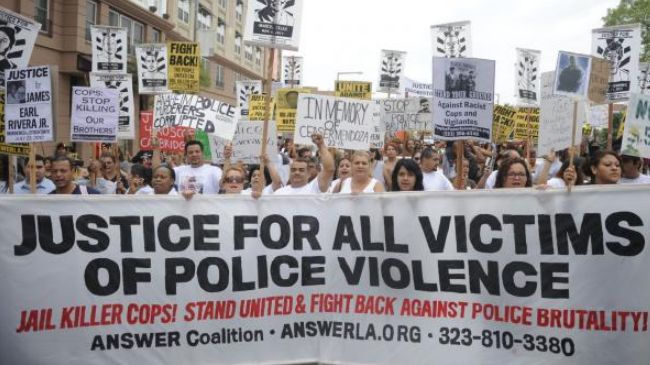 People in the US state of California rallied against police brutality one day after demonstrations were held across the country against the acquittal of a white Hispanic man who killed an unarmed black teenager last year.
Activists and family members of police violence victims rallied Sunday in California's Orange County city of Anaheim, marking the anniversary of the death of an unarmed Latino man who was fatally shot by Anaheim police.
At least 25 families of victims of police brutality took part in Sunday's Southern California Unity March Against Police Brutality in Anaheim.
Protesters said police mistreatment has become an epidemic in the country. According to the organizers of the rally, over 10 people were killed by police in Southern California in May alone.
"I'm joining because it's our son, our families, our children who are suffering from police that just think they can just pull out a gun and shoot without finding a different method of containing them," said Rosemary Duenez, whose son was shot by police.
Michael Prysner, a member of Act Now to Stop War and Racism (ANSWER), also linked police violent behavior to racial profiling.
"There's definitely a link between racial profiling and law enforcement. A young black man like Trayvon Martin was automatically profiled and lethal force was used against him," said Prysner.
Martin, a 17-year-old African American, was shot and killed by George Zimmerman in February 2012. On July 13, A Sanford, Florida jury of six women found Zimmerman not guilty of both second-degree murder and manslaughter.
Massive rallies were held Saturday in 100 US cities against the acquittal of Zimmerman.
Protesters in Sunday's Anaheim rally also demanded justice for Martin.
Anaheim police have said they would have extra forces on duty and have contingency plans in place in case the situation gets out of their control.