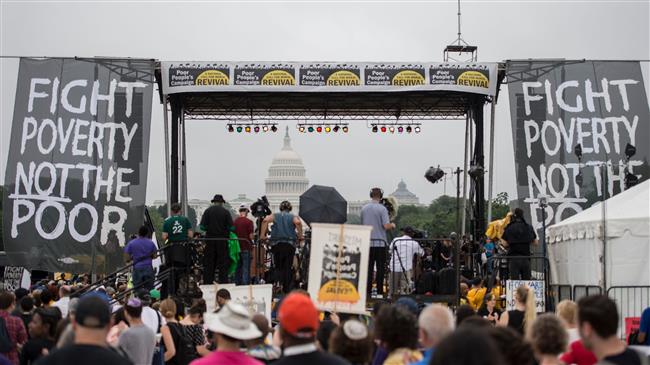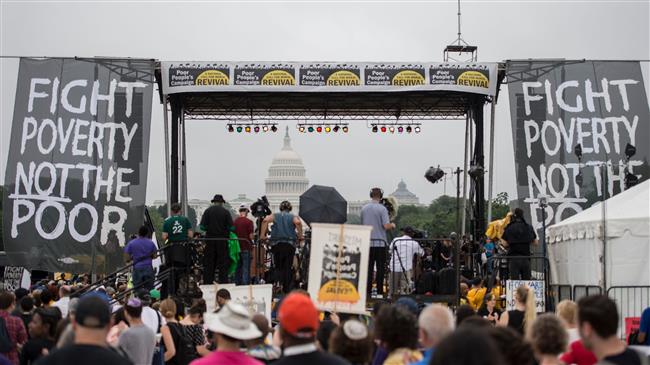 Thousands of Americans have taken to the streets in Washington DC to protest harsh living conditions as part of Poor People's Campaign rally.
Prominent activists and human rights leaders also participated in the march on Saturday which was part of a weeks-long campaign to raise awareness about the plight of Americans living in poverty.
The protesters also called for moral revival on key issues affecting the lives of ordinary Americans, including voter suppression and mass incarceration, as well as healthcare.
"So too few have so much and poor people have rich votes, poor people can vote. There are enough of poor people to turn the course of our country, that's what we have to do," said Rev. Jesse Jackson, activist and former presidential candidate.
"People to have rich votes, to have rich hopes, rich aspirations and the rich agenda which is feed the hungry, clothe the naked and set the capital free."
"Don't get it twisted," Rev. William Barber told a crowd. "We are not left, we are not right, we are not conservative or liberal."
The day marked 50 years since "Resurrection City," when thousands gathered in the same place to condemn poverty.
Barber also made it clear that they were not there to celebrate an anniversary.
"This is not a commemoration of what happened 50 years ago," he said. "This is a reenactment and reinauguration."
Protester Veronica Terry, who brought six of her children from Durham, N.C., said, "We do this as a family to show unity," adding, "I told them, 'This is history in the making.' "
Another protester was holding a sign that read "Systemic Racism is Immoral."
"As a mother and grandmother of black and brown boys, I'm very concerned about systemic racism," said Armstrong, who traveled with her family from Brooklyn. "I want to start them out early and help them understand that you have to stand for something."
The UN special rapporteur on extreme poverty and human rights has blasted the growing income inequality between the wealthy and poor in the United States.
The rally follows a UN report that shows millions of Americans are living in extreme poverty. The report blames the situation on the rapid growth of inequality under the administration of Donald Trump.
It also refers to Trump's tax reforms and welfare cuts as instances of cruel policies that indicate complete lack of compassion towards the poor.