Iran
Leaders of Ummah
Middle East
Qasem Suleimani
Amir Abdollahian Meets IRGC Chief, Vows to Follow General Suleimani's Legacy of Peace
Iranian Foreign Minister Hossein Amir Abdollahian highlighted the IRGC Quds Force's contribution to international peace and security.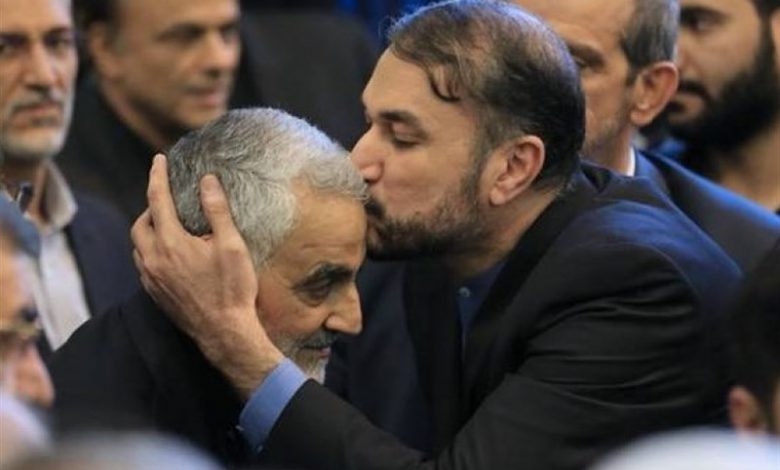 , saying In a Wednesday meeting with Commander of the Islamic Revolution Guards Corps Quds Force Brigadier General Esmaeil Qaani, Amir Abdollahian said his ministry will proudly follow the path to creating peace and fighting terrorism initiated by late commander Lt. General Qassem Suleimani.
The top Iranian diplomat paid tribute to General Sueimani for "his unmatched role in the fight against terrorism," saying the region would have a different shape "without the role of the highly-revered martyr, known as the hero of the war against terrorism and Zionism."
"The Ministry of Foreign Affairs will proudly follow the path founded by the commander of peace, General Suleimani, to the institutionalization of peace and friendship with regional countries and the battle against terrorism," Amir Abdollahian was quoted as saying by Tasnim news agency
Hailing the IRGC Quds Forces as "soldiers without borders", the foreign minister said that the force has made a significant contribution to regional and international peace and security.
"If Daesh (ISIL) had gained success in Syria and Iraq, the entire world would be facing terrorism and extremism today," Amir Abdollahian added.
Lt. General Suleimani, the former commander the IRGC Quds Force, was martyred along with the Deputy Head of Iraq's Hashd Shaabi paramilitary force Abu Mahdi Al-Muhandis in a US drone strike that targeted Baghdad in January 2020. The attack came while General Suleimani was paying an official visit to the Iraqi capital.
The strike had been directly ordered by former US president Donald Trump.