Human Rights
North America
World News
Amnesty issues 'travel advisory' for US after shootings
Amnesty International has issued a "travel advisory" for the United States in the wake of deadly mass shootings that took place over the weekend.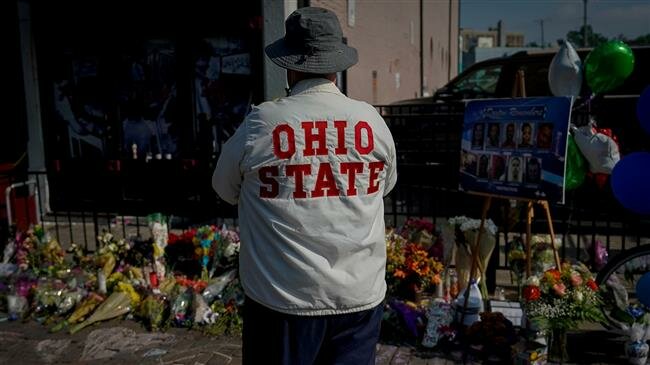 In the advisory, published on Wednesday, the London-based, non-governmental organization warned travelers to the US to be cautious due to "ongoing high levels of gun violence in the country."
A total of 31 people were killed in two mass shootings in the US states of Texas and Ohio over the weekend.
"The Amnesty International travel advisory for the country of the United States of America calls on people worldwide to exercise caution and have an emergency contingency plan when traveling throughout the USA. This Travel Advisory is being issued in light of ongoing high levels of gun violence in the country," the document read.
Amnesty International today issued a travel warning calling for travelers and visitors to the United States to exercise extreme caution due to rampant gun violence, which has become so prevalent in the US that it amounts to a human rights crisis.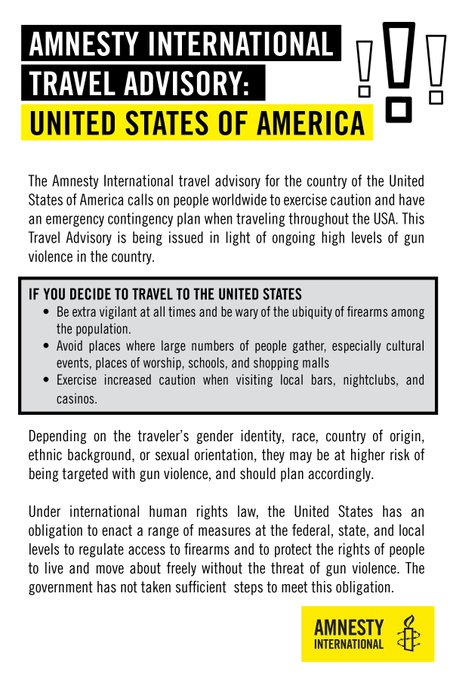 Amnesty International advised visitors to the US to be "extra vigilant at all times and be wary of the ubiquity of firearms among the population," and called on travelers to "avoid places where large number of people gather, especially cultural events, places of worship, schools, and shopping malls."
Amnesty stressed that the risk of being targeted by gun violence might be higher depending on the traveler's gender, race, country of origin, ethnic background and sexual orientation.
"Under international human rights law, the United States has an obligation to enact a range of measures at the federal, state, and local levels to regulate access to firearms and to protect the rights of people to live and move freely without the threat of gun violence," the organization added in the document.
The administration of US President Donald Trump "has not taken sufficient steps to meet this obligation," it said.
In the aftermath of the deadly shootings, several countries have issued travel advisories to their citizens. But it is not common for non-governmental organizations to issue travel warnings for countries.
Japan calls US 'gun society' after mass shootingsJapan has described the United States as a "gun society" and warned its citizens about traveling to the country after deadly shootings over the weekend.
Early on Sunday morning, a man opened fire at an arts and entertainment district in downtown Dayton, Ohio, killing 9 people and injuring 16 others. The suspect was later shot dead by police.
A day earlier, another shooting at a Walmart store in El Paso, Texas, left 22 people dead and 24 injured. The gunman, who was arrested, published a "manifesto" before his shooting that had anti-immigrant and racist rhetoric in it. He described the attack as a response to a "Hispanic invasion."
20 shot dead in El Paso in possible 'hate crime': PoliceTexas authorities are investigating the Saturday mass shooting at a Walmart store in El Paso as a possible "hate crime".
US authorities have been investigating the Walmart incident as a case of domestic terrorism.
In September last year, Amnesty International warned that the gun violence situation in the US had grown into a full blown "human rights crisis" and that the Trump administration was doing little to solve it.
According to the organization, an average of 106 individuals died a day from firearm-related incidents in 2016, totaling 38,658. Of that figure, nearly 23,000 were suicides and more than 14,400 were homicides, Amnesty said.
The report also said that more than 116,000 people suffered injuries from firearms in 2016.