Middle East
Palestine
Amnesty: Palestinian journalist on hunger strike in Israeli jail faces risk of death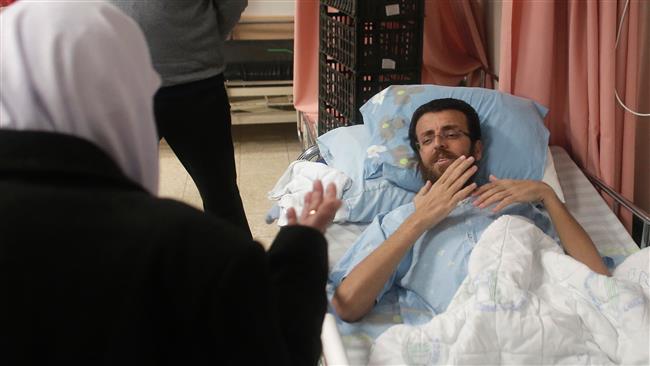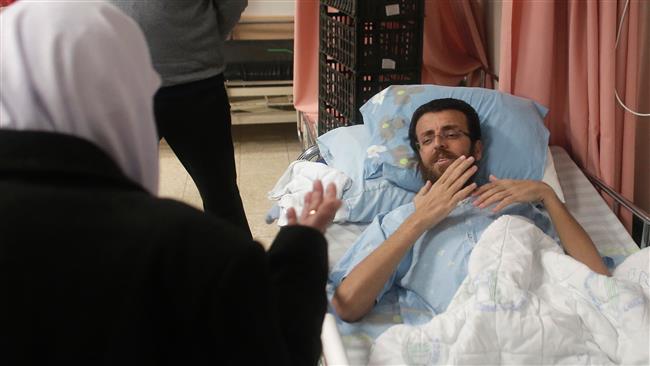 Relatives visit Muhammed al-Qiq, a Palestinian prisoner on hunger strike, in a hospital in the town of Afula, February 5, 2016. (AFP photo)
Amnesty International warned Tuesday that a prominent Palestinian journalist on hunger strike in protest against his administrative detention by Israel is facing an imminent risk of death.
The Britain-based rights group said in a statement that Muhammed al-Qiq remains under detention with no charge or trial despite his deteriorating health condition.
"Palestinian journalist Muhammed al-Qiq, held without charge or trial by Israel for nearly three months and on hunger strike since 25 November, is at imminent risk of death," the statement read.
Qiq was arrested last November at his home in the occupied West Bank city of Ramallah.
The Israeli regime claims Qiq has been involved in "terrorism activities" linked to Palestinian resistance group Hamas.
Qiq has lost the ability to speak after over 70 days without food. He said he will continue the hunger strike until "martyrdom or freedom."
Amnesty has voiced serious concern that the Tel Aviv regime authorities are using the so-called administrative detention "as a method of punishing al-Qiq without prosecuting him, which would amount to arbitrary detention."
Amnesty strongly denounced all acts of torture and ill-treatment of Qiq and other Palestinian prisoners in Israeli jails.
"Al-Qiq initially launched his hunger strike to protest the torture or other ill-treatment to which he says he was subjected in Israeli custody, and to demand his release from detention he believes is motivated by his work as a journalist."
"To Amnesty International's knowledge, the (Israeli) High Court has only ever annulled an administrative detention order in one case (in 1990), despite the fact that the practice violates the detainee's right to a fair trial and can constitute arbitrary detention."
"Amnesty International also considers that Israel's use of administrative detention itself may amount to cruel, inhuman and degrading treatment, given the detainee's inability to know why they are being detained or when they will be released."
Based on figures provided by rights group Palestinian Prisoners' Society, over 7,000 Palestinian prisoners are currently held in some 17 Israeli jails, dozens of whom are serving multiple life sentences.
Over 600 detainees are under administrative detention, which is a sort of imprisonment without trial or charge that allows the Tel Aviv regime to incarcerate Palestinians for up to six months. The detention order can be renewed for indefinite periods.