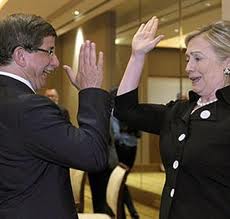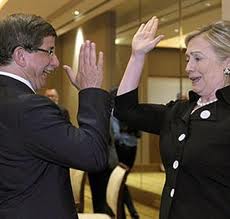 Turkish Foreign Minister Davutoglu says Ankara will decide the future of Syria; an apparent interference in the internal affairs of the Arab country.
Turkish media quoted Davutoglu as saying on Friday that Turkey plays a major role in the political developments in Syria.
Reports say Ankara has established bases in Turkey to let foreign-sponsored terrorists, including members of al-Qaeda, sneak into Syria and smuggle weapons into the country.
Turkish Prime Minister Recep Tayyip Erdogan said on July 27, "We must do what we can together in the United Nations Security Council, and also in the Organization of Islamic Cooperation and the Arab League, to make sure that we can make some important progress in trying to avert this appalling situation."
Erdogan made the remarks in reference to the turmoil in Syria.
Relations between Damascus and Ankara have deteriorated over the past months.
On June 21, the New York Times reported that a group of CIA officers are operating secretly in southern Turkey and that the agents are helping the anti-Syria governments decide which gangs inside the Arab country will receive arms to fight the Syrian government.
Syrian President Bashar al-Assad told the Turkish Cumhuriyet daily in an interview in early July that Turkey "has supplied all logistic support to the terrorists who have killed our people."
Also Assad mentioned that Turkish People do not think like their government, so Syria and Turkish People are brothers.
Many people, including large numbers of security forces, have been killed in the turmoil in Syria since March 2011.