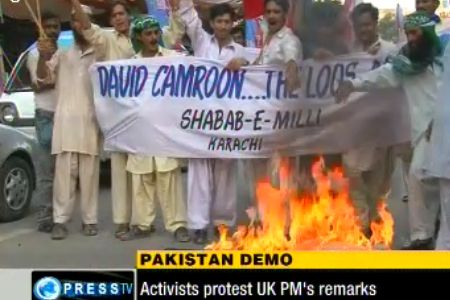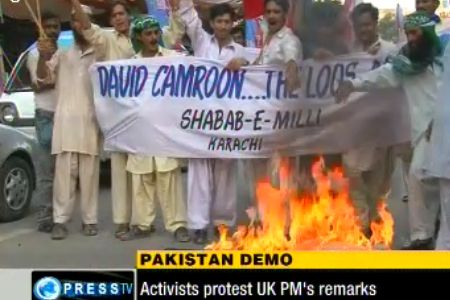 Pakistani demonstrators have set fire to an effigy of the British Prime Minister David Cameron in protest to his recent allegations against Islamabad.
A group of protesters in the southern city of Karachi staged a demonstration to condemn Cameron's remarks.
The activists with the group Shababe Milli—an associate of the Jamaat-e-Islami political party chanted slogans against the UK premier. Pakistanis are still angry with the comments by Cameron about Islamabad's war on terror.
Cameron recently accused Pakistan of exporting terrorism.
During his late July tour of India, the British conservative party leader asked Pakistan not to allow militants to use its territory as a base for attacks against its neighbors, especially India.
Pakistan insists that it has done more than any other country to combat terrorism.
Cameron's comments have led to a political spat, with Pakistani officials harshly criticizing the British premier for what they have called "irresponsible" remarks.