World News
"Antalya Meeting Tackled Humanitarian Conditions, No Alternative to Belarus Talks"
Russian Foreign Minister Sergei Lavrov said he discussed with Ukrainian counterpart Dmitriy Kuleba the humanitarian conditions amid Moscow's special operation in Ukraine, stressing that there is no alternative to talks in Belarus.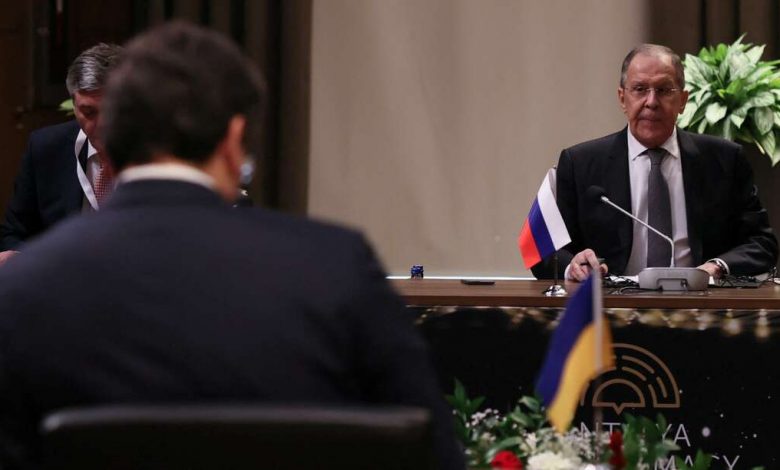 Lavrov and Kuleba held pressers on Thursday in separate auditoriums following a tripartite meeting with Turkish Foreign Minister Mevlut Cavusoglu on the sidelines of Antalya Diplomacy Forum.
"Our suggestions over humanitarian corridors still existing. Today's conversation confirmed that [the Belarusian] track [for negotiations] has no alternatives," Lavrov said, hoping that talks in Belarus will reach an inclusive settlement to the Ukrainian crisis.
Saying that the meeting with Ukrainian counterpart touched upon humanitarian conditions, Lavrov said that tackling long-term ceasefire was not the aim of the talks in Antalya.
The top Russian diplomat stated that Moscow supports any contacts that are aimed at ending the current crisis in Ukraine. He added that these contacts must have "added value" for Moscow to agree to them.
"We act based on the premise that these contacts will not be used to replace or devalue the real main negotiating track that is developing on Belarusian territory – something that our colleagues, mostly Ukrainian, do routinely", Lavrov said.
He said that Russia has no intention to attack other states, but noted that the "we have reached a situation that poses a direct risk to Moscow."
"Committed not to attack others, but West's militarizing of Ukraine is dangerous and could lead to more escalation," he said in remarks carried by Al-Manar.
In this context, Lavrov stated that EU has "violated international principles by providing Ukraine with lethal arms."
He renewed that Russian wants Ukraine a "demilitarized and neutral state", stressing: "We can't stop war if the state attacking us doesn't want so."
The top Russian diplomat slammed West's double standards, saying: "Independence in Albania is allowed but it is prohibited in Crimea."
Answering a question over targeting Mariupol hospital, Lavorv said the health facility was used as a military base by Ukrainian nationalists.
He voiced readiness to discuss security guarantees of Europe, Ukraine and Russia, noting that Moscow has offered a plan on the issue but was rejected.
For his part, Kuleba said the talks tackled opening humanitarian corridor in Mariupol and other Ukrainian regions.
"We have discussed a 24-hour ceasefire in order to deal with critical humanitarian conditions," Kuleba said as he described the meeting with his Russian counterpart was "not easy".
List of demands by Lavrov means submission of Ukraine, the Ukrainian FM said stating: "We won't surrender and rather we want balanced settlement."
He slammed NATO by saying: "It seems that NATO doesn't want to stop war and protect civilians against Russian attacks."