Europe
Anti-Austerity Demo Hits Spain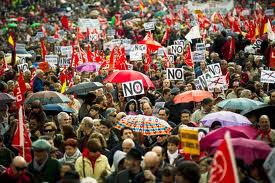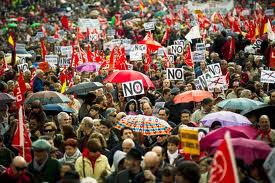 Thousands of government employees demonstrated against the Spanish government's latest austerity measures, in the center of Madrid, on Friday.
The fresh rally followed similar demonstrations that erupted after conservative Prime Minister Mariano Rajoy announced the latest measures to lower Spain's deficit, a 65-billion-euro (80 billion USD) austerity package involving among other things an increase in the VAT (TVA) tax and cuts in unemployment benefits, AFP reported.
The Spanish government also insisted Friday that a full international bailout for the country "is not an option", despite mounting concerns for its financial stability.
"There is not going to be a bailout and a bailout is not an option," government spokeswoman Soraya Saenz de Santamaria told a news conference after a cabinet meeting.
Jobless Rate Near 25%
Spain's jobless rate neared 25 percent in June, officials said Friday, darkening the recession outlook despite relief on financial markets at a vow of support by the European Central Bank.
The unemployment rate rose in the second quarter to 24.63 percent and a huge 53 percent among the young, despite the start of the tourist season, figures from the national statistic office showed, AFP reported.
The increase in the overall jobless numbers was smaller than in the first quarter, with the number of eligible people out of work rising to nearly 5.7 million people.
Between April and June, 53,500 people lost their jobs, compared with 365,900 in the first quarter, the national statistics office said.