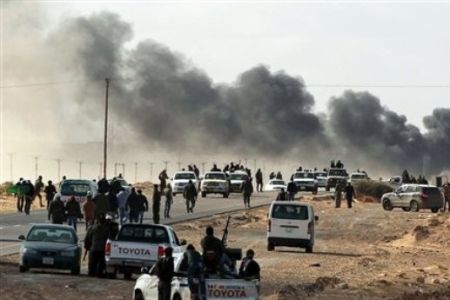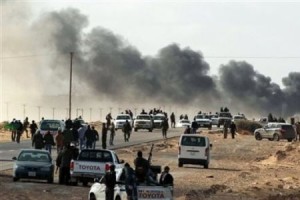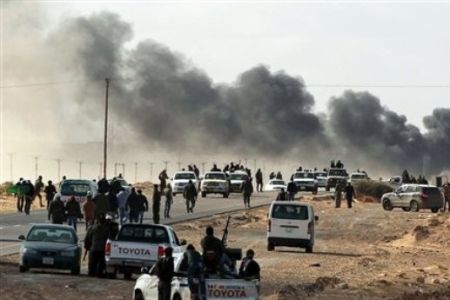 Revolutionary forces have vowed to defend Ajdabiya as troops loyal to Libyan dictator Muammar Gaddafi continue to bombard the strategically important town.
Gaddafi forces launched heavy airstrikes on revolutionary forces in the northeastern town on Monday.
The situation on the ground is becoming increasingly difficult for poorly-equipped revolutionary forces.
However, military commanders, who defected from Gaddafi's regime soon after the uprising began in mid-February, say they will defend the opposition-held strongholds.
"It's on the route to the east, to Benghazi and to Tobruk and also to the south. Ajdabiya's defense is very important … We will defend it," General Abdel Fatah Yunis, a defector told AFP.
Forces loyal to Gaddafi are now pushing closer to the main opposition-held city of Benghazi, which is home to the Libyan National Council.
Headed by former justice minister Mustafa Abdel Jalil, which was among the first high-profile Libyan figures to join protesters following the Gaddafi regime's brutal crackdown on the opposition, the council plans to lead the country to elections.
The 30-member council is made up of defected members from the Gaddafi regime, judges, intellectuals, dissidents and several political activists.
The transitional council held its first meeting in city of Benghazi on March 5, 2011 and elected Abdul Hafiz Ghoqa as official spokesman.
Meanwhile, Gaddafi troops have reportedly attacked the eastern entrance to the town of Zuwarah in western Libya.
However, revolutionary forces say they have retaken control of the eastern oil-rich town of Brega from Gaddafi troops. Anti-Gaddafi forces also claim they have captured a number of elite government troops and killed many others.
The report comes just hours after forces loyal to Colonel Gaddafi drove opposition forces out of the town by air and ground attacks.
Pro-and anti-regime forces are locked in intense fighting for control of several other eastern cities.
Gaddafi's air offensives have led to mounting calls from the international community to impose a no-fly zone over the country. The UN Security Council and the European Union are divided on the issue.
Latest reports from Libya indicate thousands may have been killed or injured as the government crackdown escalates.
Colonel Gaddafi has been in power since a 1969 military coup.