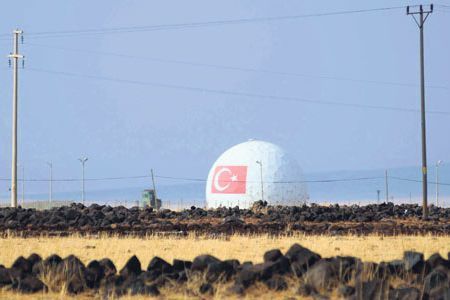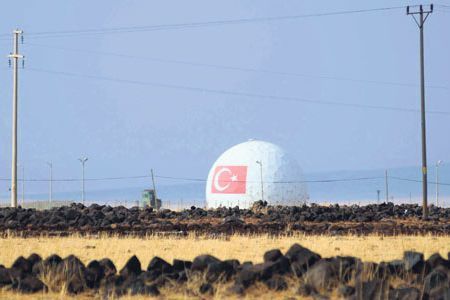 Residents of the northeastern Turkish city of Trabzon have held a rally to protest Ankara's decision to host a NATO radar missile system, Press TV reports.
The demonstrators warned on Saturday that the plan to allow NATO ships to unload missiles at Turkish Black Sea and Eastern Mediterranean ports, as part of the effort to deploy the US-engineered "missile-shield" system, would represent a challenge Turkey's sovereignty.
"The black Sea which was the sea of peace has become a candidate to be a center for warships. The presence of the warships loaded with missiles in the Black Sea will challenge sovereignty over straits. The most peaceful sea in the world could be put in a state of military tension," read a statement at the end of the rally.
The protesters, who were carrying a model of a missile with an israeli flag printed on it, also called Turkey's foreign policy of "zero tension with neighbors" just a "bluff."
On September 2, Turkish Foreign Ministry spokesman Selcuk Unal announced the country's plan to host a radar system developed by the United States for NATO.
The Turkish official said the plan, which would "boost NATO's defense capacity and strengthen [Turkey's] national defense system," is in line with alliance's "New Strategic Concept" adopted in a summit in Lisbon last year.
Following Ankara's announcement, Russia criticized the plan and criticized NATO efforts to advance eastward; adding that Turkey's collaboration with the military alliance would mark another step in the direction of the deployment "of the European segment of a global US missile defense system."
The plan has also been criticized by Iran.
Iranian President Mahmoud Ahmadinejad said shortly after the plan was revealed that "Iran is worried about its brothers in the region and when it opposes foreign presence and intervention in the region it is because foreign countries have no other means to advance their interests than sowing discord and rifts among brothers and friendly countries."
The zionist israeli regime, meanwhile, has hailed the Turkish decision, claiming that "Turkey finally accepted NATO's demand to install radar systems against possible missile attacks from Iran."