Middle East
Palestine
Anti-Netanyahu protesters violently attacked as thousands rally against zionist PM again
Protesters taking to streets against Israel's prime minister Benjamin Netanyahu have been violently attacked as revolt is building up against rampant corruption in the Tel Aviv regime and its handling of the coronavirus pandemic.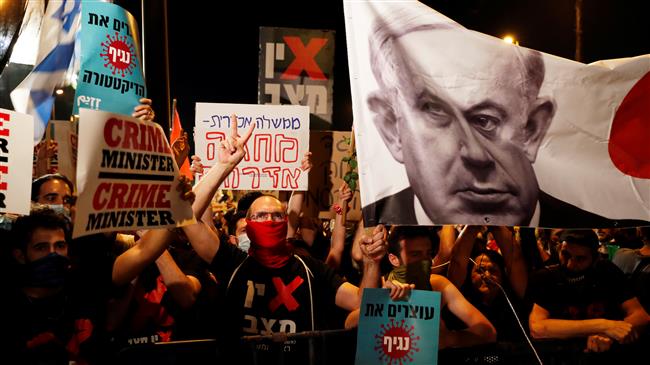 At least 5,000 people converged on a square outside Netanyahu's residence in Jerusalem al-Quds on Saturday night, holding a rally which lasted for three hours.
"They stole from the poor to give to the rich, what a corrupt regime!" the protesters chanted. They also carried signs reading "Enough with the detached regime!"
"The people at the top are dealing with crazy things instead of the economy and with people's health, like tax breaks for Netanyahu. It's time for him to resign," Gidi Carmon, 23, who came from the central city of Modiin to attend the protests for the first time, told the Times of Israel.
"Take annexation — it's not even about right or wrong, it's about timing. How did they spend so much time on that in the middle of this crisis?" Carmon asked in reference to Netanyahu's declared intent to annex large parts of the occupied West Bank and the strategic Jordan Valley.
Amy Katz, a Jerusalem al-Quds resident, said, "We have a prime minister who's interested in advancing his personal affairs and can't lead the people."
Police moved in to disperse the protesters as the clock struck midnight, dragging activists off the street one by one and eventually deploying two water cannons against the remaining demonstrators as they made some arrests.
As the protesters began to leave, they were attacked by a group of people wearing all black.
One person told the Haaretz daily that he and his friend were stopped by the group and physically attacked after they refused to answer if they were for or against Netanyahu.
In the Sha'ar Hanegev region bordering the besieged Gaza Strip, one demonstrator was stabbed by a group of attackers who assaulted demonstrators on a highway overpass.
The man, identified as a 40-year-old resident of Kibbutz Gavim, was treated for lacerations to his neck.
The protesters said a group came and told them that they were not allowed to be there and then attacked them.
"They shouted at us you are not allowed to be here, they punched us. They ambushed us, they spat at us. They attacked him from several directions," one of the protesters told Walla News outlet.
Additionally, hundreds of people demonstrated in Tel Aviv against Netanyahu's policies amid the economic fallout caused by the COVID-19 outbreak.
A man said he and his son were protesting near a junction, when a passing driver slowed down and pepper-sprayed them. The two filed a police complaint, but no arrests were reported.
A protest rally was also held for the first time near Netanyahu's private home in the northern coastal town of Caesarea, where hundreds of people gathered.
Rallies have been going on across the occupied territories in recent weeks and thousands of Israelis have joined the protest campaign.
The Israeli health ministry said on Saturday the number of coronavirus infections had crossed 60,000.
The latest daily tally showed 1,021 new infections, bringing the total number of cases to 60,496, according to the ministry.
The number of death cases rose to 455, with seven new cases, while there were 312 patients in serious condition
Coronavirus restrictions have battered the Israeli economy, with unemployment standing at some 21 percent. Protesters say financial assistance for families to address economic woes brought on by the coronavirus pandemic has been nowhere near adequate.