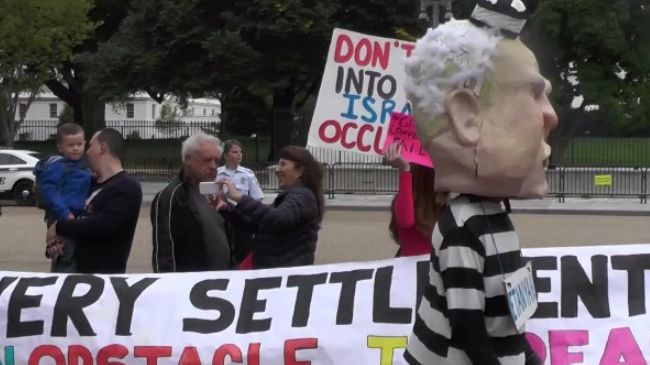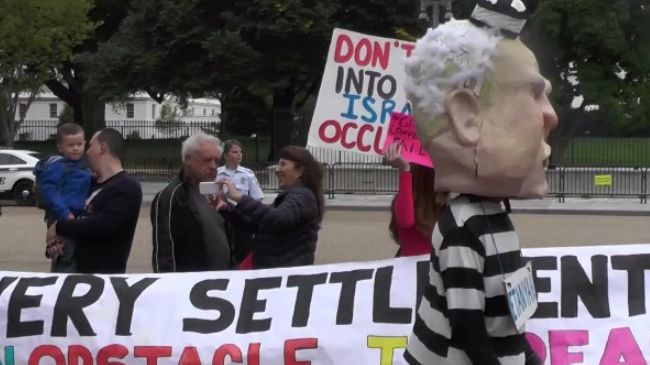 Anti-Netanyahu protests were held outside the White House in Washington, DC on Wednesday while US President Barack Obama was talking with visiting Israeli Prime Minister Benjamin Netanyahu.
As police tightened security around the White House, dozens of Jewish protesters were protesting against Netanyahu's visit to the US and chanting slogans calling him a "criminal".
"We are here as Jewish people and we say – that this criminal Bibi Netanyahu does not represent Jewish people and certainly not the Jewish religion," said Rabbi Yisroel Dovid Weiss.
Weiss also criticized Netanyahu for his hate speech at the United Nations General Assembly on Monday. "It's just two days ago, when this hateful criminal Netanyahu stood up in the United Nations and delivered this famous hate speech acquitting Palestinian's struggle for self-determination with a war for world domination. This is hateful, this is shameful."
Addressing the UN General Assembly, Netanyahu compared Israel's battle against the Palestinian resistance movement Hamas to that of the US-led campaign against the ISIL militants in Iraq and Syria.
The protesters also criticized any alliance between Washington and Tel Aviv as Obama described US-Israel relations as "unbreakable" and reiterated US "Iron clad commitment to Israel's security" during his meeting with Netanyahu.
Obama also told the top Israeli official that the status quo between Israel and the Palestinians must change in order to prevent another war in the Gaza Strip and advance peace.
Israel unleashed attacks on Gaza in early July and later expanded its military campaign with a ground invasion into the Palestinian territory. Over 2,130 Palestinians lost their lives and some 11,000 were injured. Gaza health officials say the victims included 578 children and nearly 260 women.