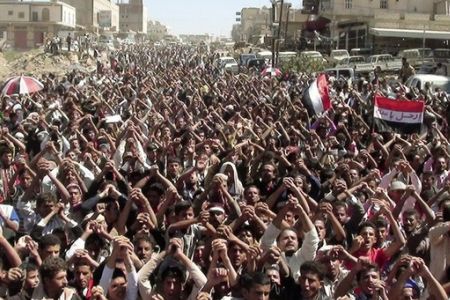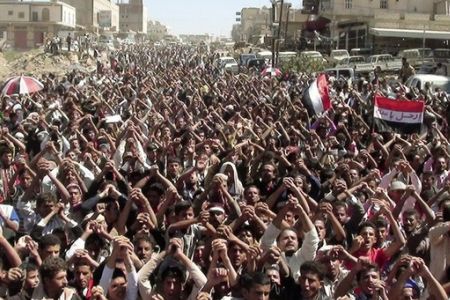 Tens of thousands of people have rallied across Yemen to demand the immediate ouster of country's long-time ruler Ali Abdullah Saleh.
Demonstrators also called for the prosecution of Saleh, who has been in power since 1978. Yemenis blame Saleh for the violent crackdown on peaceful protesters.
Anti-government protests were reported in the capital, Taizz, Ibb, Hudeida and several other cities following the Friday Prayers.
"O men who love peace in the world, Saleh must face justice," chanted anti-regime demonstrators in the capital, Sana'a.
Witnesses say a 28-year-old woman was shot dead by forces loyal to Saleh in the capital as she walked with her husband along Hael Street, which separates areas controlled by regime forces from those held by dissident troops supporting the opposition. Her husband was also injured in the shooting.
There are also reports of gunfire exchanges and explosions in al-Hassaba neighborhood in Sana'a. Witnesses say the recent clashes between regime forces and tribesmen supporting anti-regime protests began over night and continued intermittently on Friday.
Five Yemenis were also wounded after regime forces opened fire on anti-government protesters in the southern city of Taizz. Four of the injured are reported to be in critical condition.
Meanwhile, an officer in charge of the counterterrorism unit in the southern city of Aden was killed in a car blast.
"A device placed under the car of Colonel Ali al-Hajji, head of Aden's anti-terrorism unit, exploded, killing the officer and wounding two of his children," the state news agency SABA reported.
No group has claimed responsibility for the attack. However, security officials blamed al-Qaeda.
Hundreds of thousands of Yemenis have been holding anti-government demonstrations since January, demanding an end to the rule of Saleh, whom they accuse of nepotism and corruption.
Hundreds of protesters have been killed and many more were injured in the government crackdown.
Yemenis have vowed to continue street protests until Saleh's resignation.