North America
Anti-Trump protesters march in DC, vow to disrupt inauguration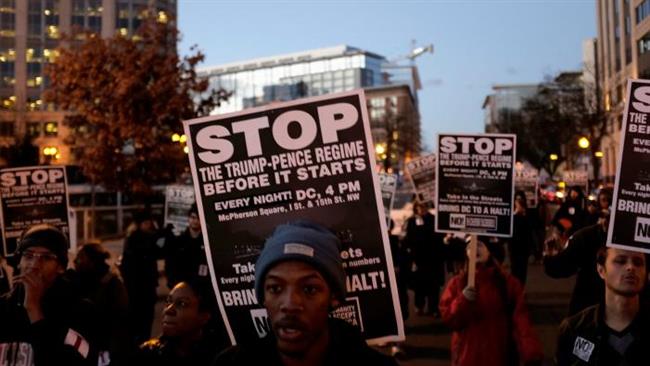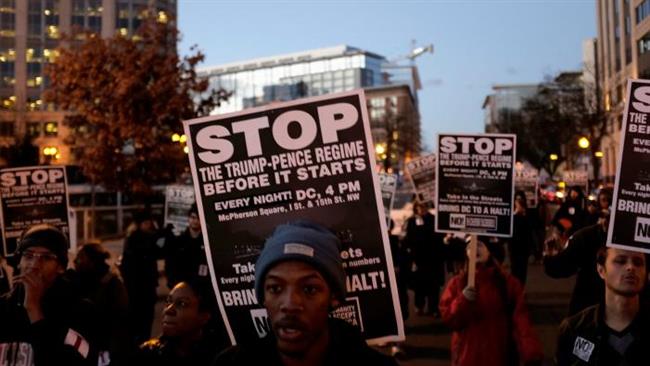 A large number of anti-Donald Trump protesters have staged rallies in Washington, DC, to denounce the US president-elect's proposed controversial policies, and vowed to disrupt his inauguration this week.  
In the demonstrations on Wednesday, the protesters condemned Trump's campaign rhetoric against minorities in the run-up to last November's presidential election.
They also described the billionaire businessman as a racist and a fascist. Trump, who has never before held public office, will be sworn in as the 45th US president on the steps of Capitol Hill on Friday.
The demonstrations were organized by several protest groups, including the DisruptJ20 which said it would send protesters to disrupt Trump's inauguration by blocking public access to the event.
The demonstrators have planned to block the dozen entrances to the grassy National Mall where hundreds of thousands of people are expected to gather to watch Trump's swearing-in ceremony.
"We believe that it's our role and the role of any people with conscience to try to disrupt this inauguration and have a massive showing of resistance on that day," Samantha Miller, a DisruptJ20 organizer, told reporters at a news conference.
According to the US Secret Service and Washington police, about 900,000 people are expected to attend the ceremony on Friday.
"There will definitely be interactions with law enforcement that day, no doubt," Miller said.
The protests against Trump began on Saturday when a few thousand protesters chanting "no justice, no peace" marched along the National Mall toward the Martin Luther King Jr. Memorial.
Braving drizzle and near-freezing temperatures, speakers denounced the Republican president-elect for his disparaging remarks against minority groups and women as well as his pledge to dismantle President Barack Obama's signature healthcare law, known as Obamacare.
Trump's election campaign had been hit with many controversies since its inception in early 2015. But he still managed to stun the world by defeating the heavily-favored Democratic candidate, Hillary Clinton.
Thousands of people since then have rallied in cities across the US to protest against Trump's victory, condemning his campaign rhetoric against Muslims, immigrants, women and other groups.
The real estate mogul's controversial comments include a call to ban all Muslims from coming to America as well as stopping Mexican migrants by building a long wall along the US-Mexico border.
Trump has also angered many millions of Americans by vowing to repeal Obamacare.
Human Rights Watch has called on Trump to repudiate controversial proposals he made during the election campaign, saying that, if implemented, they would harm millions of people in the US and beyond.
In a report published last week, the American-founded international non-governmental organization condemned Trump's controversial presidential campaign.
The report said Trump's campaign, marked by "misogynistic, xenophobic and racist rhetoric," was a "vivid illustration of the politics of intolerance."
The group further accused the billionaire businessman of "fomenting hatred and intolerance" and violating "basic principles of dignity and equality."