Europe
Anti-war protest held in Germany's Munich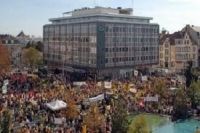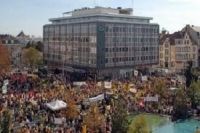 Different civil society groups and leftist parties have taken to the streets in the southern German city of Munich to protest against warmongering policies on the sidelines of an annual, high-profile security conference.
Press TV reported, Hundreds of demonstrators marched on Sunday toward the Bayerischer Hof Hotel, where the 50th Munich Security Conference is being held.
The demonstrators walked around a sealed area surrounding the conference as the Bavarian police have set up checkpoints to protect the conference area in Marienplatz Square in central Munich.
Calling for peaceful solutions for conflicts, the protesters called the conference "NATO's war meeting." The activists also said they were demonstrating against global arms deals, urging genuine global peace.
The protesters claimed the event gathers the world's major weapons producers, who seek to invent wars and move profit backward and forward with certain countries.