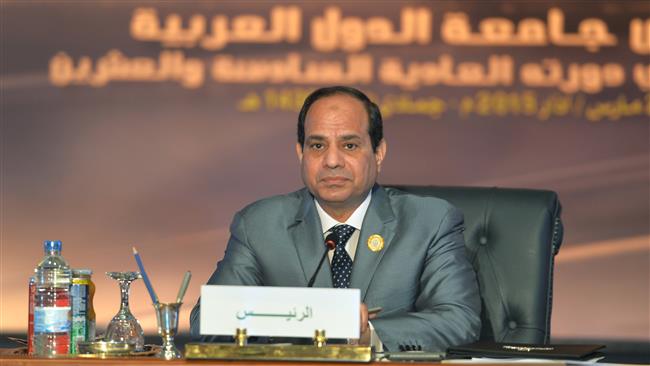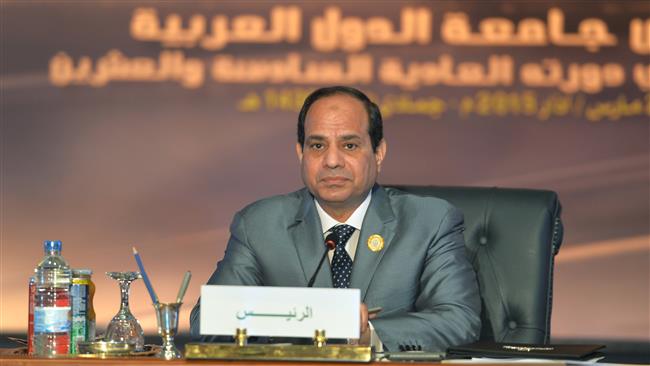 Egypt's President Abdel Fattah el-Sisi says the Arab League member states have agreed in principle to form a joint military force to deal with what they described as security threats.
Speaking at the closing ceremony of the 26th Arab League summit in the Egyptian Red Sea resort town of Sharm el-Sheikh on Sunday, Sisi said a "high-level" team led by top-brass Arab military figures will be set up to look into forming the joint force.
He also pledged to continue "working, communicating and coordinating" with Arab states on areas of common interests.
Meanwhile, Arab League Secretary General Nabil Elaraby stressed the "urgent" need to confront what he termed as threats to the national security of Arab states, calling for unified "military, economic and societal" efforts in the face of such dilemmas.
Arab League Secretary General Nabil Elarabi attends a press conference following the meeting of Arab foreign ministers in the Egyptian Red Sea resort city of Sharm el-Sheikh on March 26, 2015. (© AFP)
"What brings Arab states together is larger than what draws them apart," he added.
Elaraby further noted that the military campaign against members of the Houthi Ansarullah movement in Yemen would continue unabated.
Dozens of people, including women and children, have been killed since early Thursday, when Saudi Arabia began its military aggression against Yemen.
Yemenis gather around a crater left following a Saudi airstrike in the capital Sana'a on March 28, 2015. (© AFP)
On Saturday, the United Nations said most of its 100 international staff had been evacuated from the Yemeni capital, Sana'a.
UN Secretary General Ban Ki-moon said on the same day that negotiations "remain the only chance to prevent long, drawn-out conflict" in Yemen, stopping short of condemning the ongoing Saudi onslaught against the impoverished Arab country.