Palestine
Arab League Secretary-General Confident about Punishment of Israeli Criminals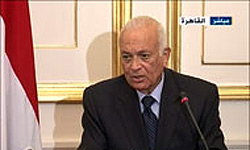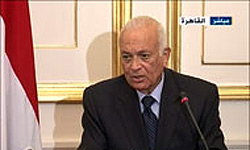 Arab League Secretary-General Nabil al-Arabi deplored the continued violation of the rights of the Palestinian prisoners in Israeli jails, and expressed the confidence that Israeli criminals will be brought to justice for their crimes.
"Definitely, the Israeli crimes against (Palestinian) prisoners will come under scrutiny," Arabi said, addressing a conference on Palestinian and Arab prisoners in Baghdad.
He said some day the Israeli war criminals will be brought to justice and punished for the crimes they have committed against the Palestinian nation.
The international conference of solidarity with the Palestinian and Arab prisoners in Israeli jails was launched in the Iraqi capital on Tuesday under the auspices of the Arab League (AL).
The conference was also attended by the Palestinian Prime Minister Salam Fayyad, the UN envoy to Iraq Martin Kobler and dozens of international and Arab delegations and personalities.
Also in the meeting, Iraqi Prime Minister Nuri al-Maliki said his country was ready to work to "internationalize the issue of the Palestinian and Arab prisoners and expose the ugly practices carried out by the forces of the Israeli occupier".
"It is time for the international community to actively move with the international organizations and shoulder its responsibility, not only to release the prisoners, but also to free the Palestinian lands from occupation and to end the sufferings of the Palestinian people," Maliki said.