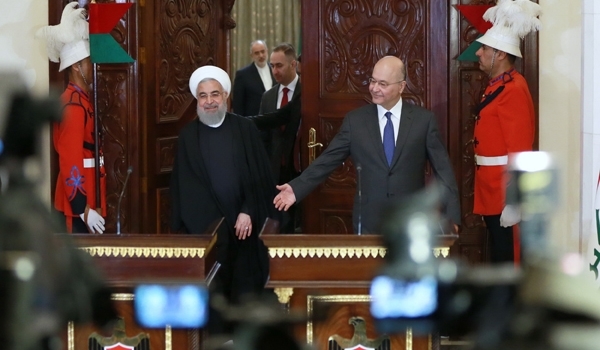 Arab media outlets compared US President Donald Trump's secret short visit to Iraq with his Iranian counterpart Hassan Rouhani's tour of the country whose preparations have been made weeks ago.
"All images and remarks made about Trump's visit to Iraq and the positions taken to condemn and oppose his secret trip should be compared with President Rouhani's visit to Iraq; a visit that the media have been covering and preparing for since two weeks ago," the Lebanese Arabic-language al-Ahd news website wrote on Monday.
The news website referred to Trump's trip to Iraq on a secret flight, and wrote, "Rouhani's visit was not made secretly and the plane carrying him did not turn its lights off. He is not going to have a short visit to Iraq contrary to Trump, will not meet the Iranian military officers in a remote base and will not regret the huge costs made for Iraq war (like Washington)."
The website noted that contrary to Trump's two-hour trip which ended without meeting the Iraqi officials, and said Rouhani is scheduled to meet a large number of Iraqi officials and politicians, including his counterpart.
President Rouhani arrived in Iraq on Monday in order to boost bilateral ties between the two neighbors amid the US sanctions against the Islamic Republic.
Rouhani traveled to Baghdad to hold talks with Iraqi officials. A high-ranking delegation is accompanying the president.
Iranian Foreign Minister Mohammad Javad Zarif and his deputy Seyed Abbas Araqchi as well as Oil Minister Bijan Namdar Zangeneh and Central Bank Governor Abdoldnasser Hemmati have all – in their recent trips to Iraq – made preparations for Rouhani's upcoming visit.
It is Rouhani's first visit to Iraq during his tenure.
Addressing a joint press conference with his Iraqi counterpart Barham Salih in Baghdad on Monday, President Rouhani underlined his country's willingness to further broaden close ties with Baghdad, saying that Tehran wants a secure and democratic Iraq.
"We want to be two highly close and united countries with Iraq and not united against each other; we should stand united to attract other regional states too. Iraq's stability, security and democracy is highly important to us and we know that a stable Iraq will lead to security and stability in the region," President Rouhani said.
"Both countries have been fighting against terrorism in the past few years and we are very happy that we have stood beside the Iraqi nation and army in hard days. We consider Iraq as an important country in our region which can play a very important role in regional security and close relations among the regional states," he added.
President Rouhani said there were no different views during his talks with President Salih, noting that both countries enjoy the necessary capacities for mutual cooperation in trade, investment, tourism, environmental and energy fields as well as the banking sector and technical and engineering services.
Trump made an unannounced stop at Ein al-Asad base on Christmas, in a visit that drew fire from the Iraqi officials and lawmakers.
Deputy speaker of the Iraqi Parliament Hassan Karim al-Kaabi said at the time that the legislature would soon pass a bill that would end the ongoing security agreement with Washington as well as the presence of all foreign forces in Iraq.
Kaabi asserted that his country would never become a launchpad for attacks or a US backyard for intelligence gathering against other countries.
Iraqi leaders say there are no American bases on the country's soil, stressing that only instructors are deployed at Iraqi bases.