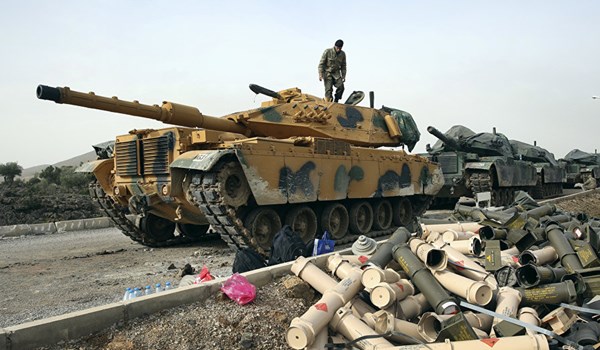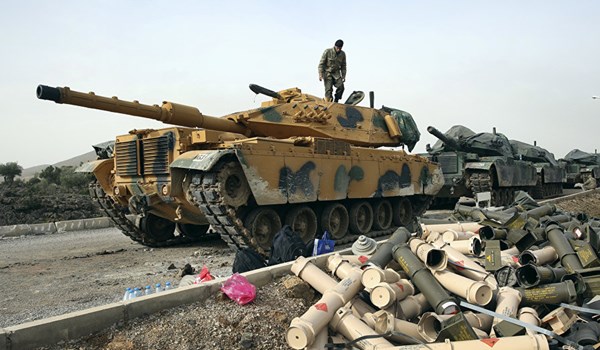 The Turkish army and its affiliated militants will be forced to retreat from the regions they have occupied in Idlib as the Syrian army is preparing for an imminent military operation in the province, Arab media outlets reported on Wednesday.
The Arabic-language al-Ahd news website reported that given the Syrian army's serious determination to liberate Idlib province after the Southern regions, including Dara'a and Quneitra provinces, Turkey is attempting to delay the military operations through diplomatic channels and events on the ground.
According to the report, Turkey emphasizes its commitment to the Astana agreement and de-escalation in Syria in talks with the Russians and Iranians on one hand, and keeps the terrorists as a winning card in any negotiations by supporting merger of terrorist groups in Syria, on the other hand.
It noted the failure of Ankara's attempts to form a 'National Army' of the terrorists to fight against the Syrian army and its defiance of Astana agreement, and said but the chain of victories of the Damascus army is evidence to the fact that Ankara will eventually be forced to surrender to the Syrian army's will and withdraw from Northern Syria.
The report said despite Turkey's attempts, the Syrian army enjoys enough power to launch extensive operations in multiple fronts in the Southern, Eastern and Western parts of Idlib irrespective of the Turkish army's checkpoints.
Also, given the large area of operations and existence of a large number of international roads, the Syrian army units enjoy the power to stage massive operations to obtain their objectives, liberate the cities and towns and drive a wedge between them and regions occupied by the terrorists, it added.
The Syrian army dispatched more troops and military hardware to Northern Syria and pounded terrorists' positions in Northern Hama and Southern Idlib on Wednesday to pave ground for a swift advance against terrorists in Idlib.
The army sent fresh convoys of military vehicles and well-equipped soldiers to Northern Lattakia and al-Ghaab Plain, reinvigorating the government forces' combat capabilities and setting up new positions.
Also, a military convoy, including hundreds of army men and a large volume of equipment, left Southern Syria for Northern Hama.
In the meantime, the army's artillery and missile units opened heavy fire at the positions of Tahrir al-Sham Hay'at (the Levant Liberation Board or the Al-Nusra Front) and other terrorist groups in the town of al-Latamina and the village of Ma'arkaba in Northern Hama and also in the villages of al-Mushayrafa, Um al-Khalalil, Badama, al-Tineh and al-Lubideh in Eastern and Western Idlib.
Terrorists suffered heavy casualties and their military hardware sustained major damage in the attacks.